True Love Waits Goes Comedic This Spring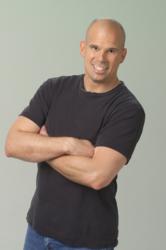 Liberty, NC (PRWEB) January 06, 2012
Comedy, Christianity, and sex: not words often put together, however, Christian comedian Keith Deltano uses comedy to promote sexual abstinence amongst teens. Keith will be going on tour this spring as part of the True Love Waits movement, an international effort to help teens make healthy decisions.
True Love Waits, founded in 1993 by Life Way Christian Resources, has educated over 2.4 million young people with the sexual abstinence message. They are often credited with starting the modern abstinence movement. Keith Deltano will be bringing his brand of uncompromising clean comedy to the True Love Waits movement this spring.
Keith combines, audience interaction, and cultural commentary into an unusual style of uplifting comedy. Keith has been an award winning public middle school teacher, youth leader, private counselor and educational comedian. He is a winner of the Teaching Excellence Award and was awarded the National Impact Award from the Abstinence Clearinghouse. The Christian Comedy Association called his comedy CD The Best Topic Driven CD. He believes that comedy can be used to teach teens that True Love Waits.
Keith says, My presentations promote waiting to have sex until marriage, and a fulfilling sex life afterwards, which is obviously a positive idea. However, I also discuss condom failure rates as well as some of the sexual myths teens believe. It can be graphic, so we are recommending that only those thirteen and above attend the tour. At the shows Keith will use comedy to contrast teen culture with reality. For example, he will contrast the Hollywood concept of sex with the fact that, according to the CDC, one out of four teenage girls has a sexually transmitted disease.
Keith says, "I believe Christian comedians can address cultural issues. I named my site Defy Conformity because all my comedy is about not running with the crowd, not conforming to what is considered normal. Whether Im doing a show on sex and drug resistance for teens or avoiding commercialism during Christmas for adults, Im trying to get my audience to recognize unhealthy behaviors and change them. Laughter is a great tool for social analysis.
Rodney Alaimo of the Niagara County Youth Bureau, stated, "No speaker deals with the cultural manipulation of sex like Keith does, he is the best out there. he teaches teens to analyze the sex saturated culture they live in." Keith believes that teens are very receptive to the idea that True Love Waits and that the use of comedy will hold their attention.
Keith Deltano has educated and entertained teens throughout the United States. To learn more about his unique brand of comedy go to [http://www.DefyConformity.com
###