Sun and Fujitsu's SPARC Enterprise T5440 Server Redefines Midrange Enterprise Computing with Industry-Leading Price Points, Power Management and Multiple World Record Benchmarks : New Energy Efficient Chip Multi-threaded (CMT) Server with the Solaris OS Delivers Up to 4x Higher Performance and Costs Up to 80 Percent Less Than Competitive Systems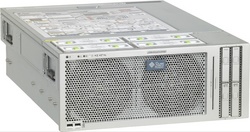 TOKYO & SANTA CLARA, Calif. (PRWEB) October 13, 2008
While competitive systems from IBM and HP cost as much as 80 percent more or deliver as little as 1/4 the performance, the SPARC Enterprise T5440 server with the Solaris(TM) 10 Operating System (OS) delivers world record performance and enables customers to consolidate and virtualize midrange applications, including large scale OLTP databases, CRM and ERP. In a compact 4U package, the SPARC Enterprise T5440 server increases server utilization while reducing energy consumption and lowering operating costs. Additionally, the SPARC Enterprise T5440 server is the first chip multi-threaded (CMT) server to scale up to four processors.
"Sun is dramatically changing IT economics and delivering enormous value to the midrange market that could not come at a more critical time," said John Fowler, executive vice president, Systems Group, Sun Microsystems. "The Solaris-based SPARC Enterprise T5440 server offers incredible performance on a completely different curve in a footprint that's half the size of the competition. For customers, it all comes down to faster, smaller, greener, better. And with the built-in virtualization of Solaris, they can save even more."
"The new SPARC Enterprise server delivers the vast scalability of 256 compute threads in just a four RU chassis," said Masami Yamamoto, corporate senior vice president of Fujitsu. "With the addition of the SPARC Enterprise T5440 server, we will be able to further address the needs of customers who are looking to enhance the performance of their datacenters while gaining the benefits of energy efficiency, consolidation and virtualization."
ENERGY EFFICIENCY ENGINEERED FROM THE GROUND UP; OPEN SOURCE, NO-COST VIRTUALIZATION BUILT-IN
The SPARC Enterprise T5440 server, with up to 32 cores (256 threads) and 512 GB of memory, is one of the first systems to incorporate unique power management features including the ability to park idle threads. The server also features Intelligent Fan Control (IFC) which adjusts rotational fan speed according to changes in temperature thereby reducing power consumption. Running fans at lower speeds saves significant amounts of energy, and also reduces noise and vibration which helps extend component life. An additional design element that maximizes power savings is dividing the chassis and fans into cooling zones which allow a response only from those fans needed to compensate for changes in temperature. The SPARC Enterprise T5440 server also features a redesigned power distribution subsystem with highly efficient digital regulators which reduce wasted energy over previous analog designs.
With built-in, open source, no-cost virtualization via Solaris Containers and Logical Domains (LDoms), the SPARC Enterprise T5440 server is an ideal platform for consolidating hundreds of existing enterprise class workloads onto a single system. Additionally, for existing Solaris customers, the Solaris 8 and 9 Containers capability enables customers to run multiple Solaris 8 or 9 environments on a single SPARC-based system. As a result, customers can quickly and easily move existing physical environments to virtual containers on Solaris 10 and take advantage of the performance, scale and cost savings of new SPARC Enterprise CMT-based servers today. Solaris 10 10/08, to be released later in October, also enables improved virtualization performance and includes an enhanced Solaris ZFS file system which offers increased data integrity and a fully integrated disaster recovery capability to help ensure business continuity.
SPARC ENTERPRISE T5440: IBM AND HP CAN'T STACK UP
The SPARC Enterprise T5440 server packs up to four processors into a four RU enclosure weighing 88 pounds (40kg) and typically consumes just 1,575 watts of power. Based on an industry-standard Java Business benchmark result published on SPARC Enterprise T5440 server, customers can reduce acquisition costs and still get better performance than the new eight processor IBM Power 560 Express system, which takes twice the amount of physical space, weighs twice as much and consumes 26 percent more power.(1)
The SPARC Enterprise T5440 server also offers massive I/O performance and expandability with up to 10GB/s of raw I/O bandwidth. With the addition of the optional External I/O Expansion unit, the number of I/O slots available to SPARC Enterprise T5440 server can be expanded to support up to 28 PCI-E slots, yielding 2.5x more slots than the competing quad socket HP rx6600 server. More food for thought on the SPARC Enterprise T5440 versus the competition is available at http://www.sun.com/proprietary6 and http://www.fujitsu.com/sparcenterprise/.
SPARC ENTERPRISE T5440 DELIVERS WORLD RECORD PERFORMANCE ON KEY ENTERPRISE BENCHMARKS; CUSTOMERS AND ISVs APPLAUD THE SPARC ENTERPRISE T5440 SERVER
The SPARC Enterprise T5440 proves its mettle with world record performance on seven benchmarks including the best four processor result on two-tier SAP