QNAP Announces Exclusive Built-in phpMyAdmin & MySQL / SQLite Dual Support in All-in-one NAS Series, New Trend in Web Server Setup via Embedded System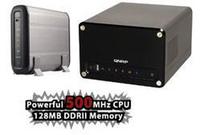 Taipei, Taiwan (PRWEB) September 26, 2007
QNAP All-in-one NAS now offers a different choice of reliable network storage, data protection, as well as genuine hassle-free web server setup.
The leading network-attached storage (NAS) provider QNAP Systems, Inc. today announced the built-in phpMyAdmin and MySQL / SQLite support for the Web Server function of All-in-one NAS series. Especially designed for web enthusiasts, workshop, and small business users, QNAP supports preinstalled phpMyAdmin database management tool to simplify web server setup and installation to a large extent. This new feature provides users with highly convenient and flexible server setup, and also enables those who are not familiar with Linux environment to establish their own web server at great ease. QNAP TS-109 and TS-209 series adopt embedded high performance 500MHz CPU and 128MB DDRII memory. They are the 12-in-1 multi-functional NASes for highly reliable network storage and data backup and also a new choice to host web servers.
The featured built-in PHP web server (version 5.2), MySQL (version 5.0) and SQLite dual database, editable php.ini, and multiple DDNS support of the QNAP NAS series provide an easy-to-manage and high performance web server platform for home and SMB users. According to the CEO of QNAP, Mr. Meiji CHANG, "The embedded systems are power-saving and compact. Their computing power has also been enhanced increasingly. We believe it is going to be a new trend that more and more users will use embedded systems to host their web server, and this will replace part of the usage of PC servers." Many outstanding applications are available in the open source communities of Linux. These applications can be used to create blogs, forums, on-line shops, etc. More importantly, they are developed by PHP and MySQL or SQLite, free to download, and the web-based interface is very simple to use. However, installing these applications on Linux OS can be too complicated for beginners. "We hope that every user can enjoy these powerful applications and establish their web servers easily. Therefore, QNAP announced this enhancement for All-in-one NAS series. We're very glad that our TS-109 and TS-209 series are able to satisfy their needs", said Mr. CHANG.
About QNAP All-in-one NAS Server Series
QNAP All-in-one NAS Server Series surpasses general entry-level servers with only basic network drive functions in providing diversified application server functions via easy-to-manage web-based interface. These functions include network storage, file server, encrypted FTP server, encrypted remote replication, printer server, etc. The powerful backup software NetBak Replicator is provided for users to back up data on multiple PCs to NAS. QNAP also supports Windows AD service for centralized data management to reduce the data maintenance cost of SMB and corporate users. The built-in digital home theatre functions are supported, e.g., music sharing via iTunes server, and highly compatible DLNA media streaming server for playing videos, music, and photos on TV via streaming from Digital Media Adaptor, PS3, or Xbox360 game consoles. Furthermore, the network album provides a user-friendly platform for sharing photos with friends and family. QNAP NAS series also support PC-less BT, HTTP, and FTP download. The included QGet software can be used to manage the download tasks of multiple NAS servers over LAN or WAN.
About QNAP TS-109 and TS-209 All-in-one NAS Server series
QNAP TS-109 series supports up to 1TB single SATA hard drive. The total storage capacity can be expanded to 2TB with an external eSATA or USB drive. With the unique fanless design and aluminum alloy case, the noiseless TS-109 is ideal for operation in digital home environment. Moreover, the power consumption rate of TS-109 is less than 14.4W under normal operation. This energy-saving design enables the server to run 24×7 non stop. TS-109 series supports 12-in-1 complete functions and high transfer performance. It has already received worldwide awards, including "Editor Choice" from Personal Computer World (UK), "Lord of NAS" from Hexus (UK), and "Golden Bear Award" from Bjorn3D (US), "Editor's Choice" from APC (Australia), and "Best Buy" award from PC World, etc.
QNAP TS-209 series was released in August 2007. It is the only 2-bay, RAID 1, hot-swappable NAS model in the current SOHO NAS market. With 12-in-1 functions, the maximum storage capacity supported is 2TB. TS-209 is an ideal large-storage and high security solution for home, SOHO, and SMB users.
Applications and Operation
The new firmware (version 1.1.1) of QNAP TS-109 and TS-209 series supports newly built-in phpMyAdmin, and the DLNA media playing function of PlayStation3 and Xbox360. Users can simply download the new firmware from the QNAP web site and update their system to enjoy these new features.
For further information of web server setup by QNAP NAS, please refer to the application notes of TS-109 or TS-209 series on the QNAP web site. You can also visit the official QNAP Forum for relevant discussions.
###