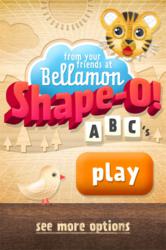 Cupertino, CA (PRWEB) December 30, 2011
Bellamon, a leader in developing innovative pre-school iOS apps, has launched an iPhone version of its classic preschool ABC learning app Shape-O! ABCs for iPhone. The iPhone version compliments the companys celebrated iPad edition, and has already earned critical acclaim from parents and teachers around the world.
Designed in consultation with a PhD-level education specialist, Shape-O! ABCs for iPhone has been re-imagined to accommodate tiny fingers on the devices small touch screen. It encourages learning-by-doing by integrating puzzles, shapes, words, colors and sounds into one engaging activity, so that kids learn their ABCs in an interactive, fun and effective way. Additional app features include:


Over 100 delightful shape puzzles that makes learning fun
Thoughtful design and a UX that focuses on kids not adults
8 beautiful color palettes to capture and delight the senses
Alphabet and spelling modes to support young learners as they grow
Delightful and enchanting sounds from real instruments
Plus, true to the Bellamon philosophy that always puts learning ahead of commerce, Shape-O! ABCs for iPhone is offered with no in-app advertising, no in-app purchasing, no website links on the play screens, and no stressful countdowns.
Bringing Shape-O! to the iPhone is a natural evolution, commented Patrick Liem of Bellamon. Now, even more very young minds around the world can learn their ABCs in a creative, independent and fun digitally-enhanced way. And based on the feedback weve received so far with one review site heralding Shape-O! ABCs as a `recipe for pre-school bliss were excited and delighted to be sharing this special kids learning app with children, parents and educators around the world.
Shape-O! ABCs for iPhone and iPad is available now in the App store, where it has earned a perfect 5-star rating.
For more information or media inquiries, contact Mark Johnson of appshout! on behalf of Bellamon at +1 408 757 0086 or press(at)myappshout(dot)com.
About Bellamon

At Bellamon everything we do is designed for and tested by small people with big imaginations. We are inspired by the uniqueness of kids, and believe they deserve products that apply the highest quality of interaction design. This is why we take time to create custom graphics and sounds, carefully design kid-friendly interfaces, and consult with education specialists when developing new apps. Bellamon formed around an Aussie mom who was looking for better interactive activities for her own kids. As a group, we are dedicated to creating apps full of heart and imagination for kids everywhere. Learn more at http://www.bellamon.com.
###