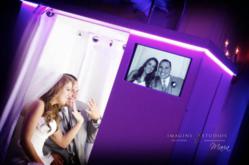 New York, NY (PRWEB) December 23, 2011
Photo Booth Rentals have spiked in popularity and the Metro New York area is no exception. From the poshest parties to the most elegant of affairs photo booths have claimed their rightful place on any events check list. The smiles and memories captured in a photo booth are different from any type of professional photography and also are a world a way from a step and repeat. The photo booth set up allows guests to pile into the photo booth, draw the curtain and let the magic happen. This nostalgic past-time is loved by all. From the classic kissy faces to the most unusual silly faces one thing is always certain: a photo booth rental is a great time. And now Incredibooths: New York's Ultimate Photo Booth Experience, is offering its luxury photo booth new york rentals at a reduced price just in time for the holidays.
"Our photo booths are extremely popular and thankfully because of that we are able to make this offer" says Dennis of Incredibooths. "We figured we'd make a great offer in the spirit of the holidays, this will allow some folks to same some money while still getting the luxury they deserve. It's our gift to our customers."
Incredibooths luxury photo booth rentals are completely revolutionary and modern with their hallmark all white design and clean modern exteriors. The Capture Cube and Capture Curve both use the best photography equipment available as well. The photo booths are packed with technology like a Canon DSLR camera, professional flash ring, huge color touchscreen, High-definition external slideshow displays and professional dye-sublimation printers boasting pro quality glossy photo prints in just about 7 seconds! The high end technology in the booths definitely matches the high end look and finishes of the luxury photo booth rentals.
Guest both young and old all love a photo booth and they make great favors. Even those with a shy streak tend to loosen up and get a little wild after piling into the photo booth to strike a pose. Everyone will get in the booth! Guests go home with an instant memento of the event which often includes a customized event logo or monogram and the date. For weddings this type of customization is great as it allows the bride and groom to fully personalize the experience. A luxury photo booth rental new york is a unique and fun experience that adds an extra level of excitement that you and your guests will talk about for years.
All photo booth rentals include: