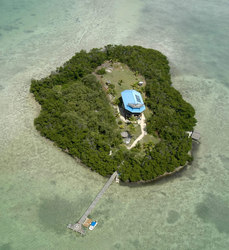 Toronto, ON (PRWEB) October 17, 2008
Leading luxury real estate firm Private Islands Inc. has announced that due to a record amount of price reductions, they have now created a new section on their Private Islands Online website to help buyers discover these rare bargains. Company CEO Chris Krolow says that while the extreme rarity of islands and the high net worth the average owner usually sheltered his industry from market fluctuations, the current credit crunch is causing many hard-hit sellers to drop prices in hopes of a quick sale. "In my ten years in this business, I haven't seen a better time for buyers to get some amazing deals on very desirable properties," he says. "We're seeing substantial cuts in prices- sometimes by half or more- by motivated sellers who've had their portfolios affected by the credit crisis."
One of his top picks for a newly reduced bargain is the 5.5-acre Melody Key, a unique Florida island with a rare grandfathered clause that will give the new owner the ability to generate income by renting out the property. Once priced at US $ 10M, it could now be yours for just $ 4.9M. But he warns that prices in his niche luxury market rarely come down to earth for long, so those looking to turn their purchases into future profits should act quickly. And while deals like Melody Key can be found right at home in the USA, Krolow says that investors looking overseas to add private islands to their portfolio will find the best prospects for appreciation in areas with high rates of tourism and substantial infrastructure.
"A safe environment and the availability of amenities like hospitals, airports and shopping are important, as is a relative proximity to the United States, where the majority of island buyers reside. With the strongest tourism sector in Latin America and the fastest growing economy in the world, islands in Panama have become highly desirable for the construction of resorts and residential developments, ranging in price from several million down to the tiny Isla Gatun, listed at just US $ 30K. And the credit crunch has even impacted new tropical listings, he says. "Last year it would have been hard to imagine the titled, 94-acre Isla Iguana being listed at a price like US $ 1.5M, as it was just last week."
Pricier but still always in high demand are properties in the Bahamas, where the market is fuelled by high tourism and the celebrity cache of local island owners like Johnny Depp, Nicholas Cage and Faith Hill, and more owners than ever are willing to look at lower offers. Closer to home, sizable new reductions can be found on properties in areas like Maine and Canada's Nova Scotia, popular seasonal haunts for urbanites of East Coast cities like New York, Washington and Boston. Just reduced to US $ 725K, Krolow says that the 16-acre Ram Island in Maine is one the top regional deals.
"Luxury sales- things like yachts, high-end jewellery and holiday homes- are always hardest hit in times of economic crisis, but the private island business has never seen this kind of impact. Up to 20% of all the islands on the market have recently been reduced, although lower selling prices and more new listings mean we're also seeing a big surge in buyer activity." Even with more properties becoming available, he says the island market is still far from flooded. "We're actually very fortunate, because unlike most sectors of real estate that are suffering over-saturation from recent booms in construction, ours is truly a finite market of maybe 800 properties up for purchase each year. When it comes to natural private islands, they just aren't making any more of them."
To view recent price reductions, please visit: http://www.privateislandsonline.com/price-reductions.htm
For more private islands for sale visit Private Islands Online
For information on marketing islands for sale, visit Private Islands Inc.
###