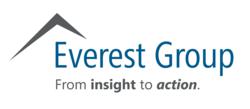 Dallas, Texas (PRWEB) January 25, 2012
Everest Group has assembled a group of 14 large enterprise IT leaders, service providers, and vendors to discuss a topic of growing urgency throughout the cloud computing industry: How do Fortune 1000 companies prepare for the cultural, social and career development issues that can scuttle the best-laid technical plans for moving from traditional enterprise IT to cloud computing?
The group will gather at the CloudConnect event February 13-16 in Santa Clara, Calif.
The conference track discussing this topic, called Organizational Readiness, will feature senior IT leadership from the following companies:
AT&T

Rio Tinto

Dell

Best Buy

Ancestry.com

Intercontinental Hotels Group

Novartis Pharmaceuticals

X.commerce, an eBay company
In addition, notable cloud thinkers such as Simon Wardley of CSCs Leading Edge Forum, David Linthicum of Blue Mountain Labs, Clayton Pippenger of Quest Technologies, John Lake of Panasas, and Francesco Paola of Cloudscaling will offer insights from their work with multiple large enterprise and service provider clients.
Public cloud services like Amazon Web Services, Rackspace and Microsoft Azure have seen rapid growth in the past two years, adding services that make these early leaders more and more attractive to enterprise IT departments.
As a consequence, CIOs and IT department leaders have become more comfortable with the technical and engineering challenges of cloud migration. The next hurdles to overcome for many of these organizations, however, are cultural. Todays enterprise IT org charts were designed when client/server architectures were the norm. Cloud services, however, require fundamental shifts in technical skills, internal customer relations, pricing and evaluation criteria to achieve the benefits cloud promises.
The four-session track will feature topics including:


How to keep legacy cultures from eating your next-generation strategy.
Why flexible governance models will become the norm in cloud IT.
Grief counseling for the CIO: What can the executive team do to support IT leadership as the transformation to cloud unfolds?
Where to find and how to cultivate the cloud computing skills your IT function must have to be successful.
These enterprises, vendors and service providers offer an incredible diversity of cloud migration experiences, said Scott Bils, who chairs the track and is also the Partner at Everest Group who leads the firms Next-Generation IT practice. Anyone who wants to learn more about the challenges of moving to cloud from an organizational and cultural standpoint wont find a better opportunity to learn than from these folks.
CloudConnect has always had a strong representation throughout the technical community, said Steve Wylie, general manager of CloudConnect. But the large enterprises weve gathered for the Organizational Readiness track will give our attendees interested in organizational and business implications of cloud a new and compelling reason to attend.
About CloudConnect

CloudConnect, produced by UBM TechWeb, is the defining event of the cloud computing industry. As both a conference and an exhibition, CloudConnect's goal is to chart the course of cloud computing's development by bringing together enterprise IT professionals, developers, infrastructure and service providers and cloud computing innovators. UBM TechWeb has produced cloud events that define and frame cloud computing discussions since June 2008, and recently expanded the CloudConnect event brand to Chicago and Bangalore, India, in addition to the flagship Santa Clara event. CloudConnect is a one-of-a-kind event that encompasses the entire cloud computing ecosystem featuring a Launch Pad program, IT & Developer workshops and a full conference program. For more information visit: http://www.cloudconnectevent.com.
About Everest Group

Everest Group is an advisor to business leaders on the next generation of global services with a worldwide reputation for helping Global 1000 firms dramatically improve their performance by optimizing their back- and middle-office business services. With a fact-based approach driving outcomes, Everest Group counsels organizations with complex challenges related to the use and delivery of global services in their pursuits to balance short-term needs with long-term goals. Through its practical consulting, original research and industry resource services, Everest Group helps clients maximize value from delivery strategies, talent and sourcing models, technologies and management approaches. Established in 1991, Everest Group serves users of global services, providers of services, country organizations and private equity firms, in six continents across all industry categories. For more information, please visit http://www.everestgrp.com and research.everestgrp.com.
For more information about Everest Group and its consulting and research capabilities, please visit http://www.everestgrp.com, email info(at)everestgrp(dot)com or call +1-214-451-3000.
# # #
More Tech Press Releases