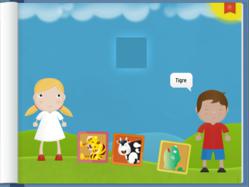 San Diego, CA (PRWEB) December 27, 2011
Bilingual Child is an interactive iPad and iPhone game designed to effortlessly teach English and Spanish to children between the ages of 1 and 4. This interactive bilingual educational application will submerse children into animated books where characters Lucy and Carlos, an English-speaking girl and a Spanish-speaking boy, teach animals, numbers and colors. Engaging animation reinforces the word spoken by the characters as does a word bubble in each language that appears above the characters head. Bilingual Child is equal parts entertainment and education.
Each book in the Bilingual Child series has amazing detail. Adorable graphics and clever animation combine with Box 2Ds physics engine and dynamic coloring to deliver language instruction in a game-play format. This interactive environment translates into a friendly, playful experience that lays the foundation for developing a bilingual child.
Designed for children in their primary linguistic development years Bilingual Child is a portal to future social and educational experiences. According to Christina Bosemark, Founder of the Multilingual Children's Association:
... between 0-3 years of age nature has primed our brains with a peak number of synapses that are busily building the optimal neural pathways to use in the production of language.
Additionally,
multilingualism has been proven to help your child develop superior reading and writing skills. Multilingual children also tend to have over all better analytical, social, and academic skills than their monolingual peers.
The app is a perfect start to every childs foreign language education. Bilingual Child is a free download and is now available in the iTunes App Store for both the iPad and iPhone.
Tiny Factory is an application design and development company located in downtown San Diego, California. For additional information, contact Alexander Rolek either by phone, 619-866-4543, or via e-mail, hello(at)tinyfactory(dot)co.
###
Related Graphic Press Releases