Balsam Hill Traces a Timeline of Christmas Traditions with New Infographic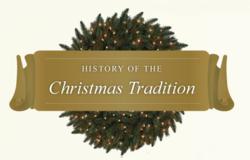 (PRWEB) December 25, 2011
Balsam Hill , a leading online source of premium artificial Christmas trees, has developed a visual history of Christmas traditions to bring extra holiday cheer to visitors of its website. The infographic compiles interesting facts about traditions dating as far back as the 4th Century. Tracing the history of decorations, practices, figures and their effect on culture, the detailed image was designed to deepen visitors appreciation of the season.
We have so many customs during Christmas, weve actually forgotten how most of them began, says Balsam Hill CEO Thomas Harman, Its fascinating to see each tradition grew from its humble beginnings. That fascination, according to Harman, is precisely what motivated the creation of the infographic.
Christmas brings with it a sense of wonder and magic, Harman explains, By presenting the holidays traditions over the course of history, we hope to capture that feeling and bring more meaning to the season.
Many people, for example, will be surprised to learn that Rudolph was created more than 100 years after the eight other reindeer were first mentioned in the holiday classic, A Visit from St. Nicholas. Visitors will be also able to learn the origins of time-honored customs, such as the decade when children started leaving cookies and milk for Santa Claus.
Santa himself is given a lot of attention on the visual history of Christmas, which shows his evolution from the Greek Saint Nicholas to the jolly man in red known and beloved by todays children. Technological developments are also covered, from the very first Christmas card to the original e-Cards that came with the Internets rise to popularity.
The graphic also details the connections between different traditions. Ebenezer Scrooge from Charles Dickens A Christmas Carol, for instance, was one of the key inspirations for another famous grouch, Dr. Seuss Grinch.
Balsam Hill has another treat up on its website: the store is currently holding an artificial Christmas trees clearance event on many of its most popular items. While we created the infographic to give more meaning to our Christmas traditions, we also wanted to give our customers more reasons to celebrate the holidays, Harman adds. Visitors will be able to save as much as 70% at their biggest Christmas tree sale of the year.
As we go through the hustle and bustle of the holidays, Harman continues, we invite folks to take a step back and appreciate our beloved traditions.
About Balsam Hill : The mission of Balsam Hill is to create the highest quality artificial Christmas trees, wreaths, and garlands ever produced. The Balsam Hill team is passionate about developing realistic, premium pre lit Christmas trees for a more festive — and convenient — holiday season. Based in Redwood City, California, Balsam Hill designs all of its own trees, which are available exclusively online through http://www.balsamhill.com.
###