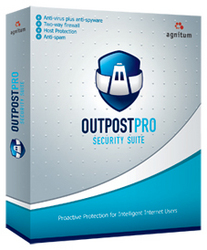 San Jose, California, US, and St. Petersburg, Russia (PRWEB) October 23, 2007
The security experts at Agnitum, the leading firewall provider, today announced the launch of the Outpost Pro 2008 product line, which opens with two Vista-compatible products: Outpost Firewall Pro (OFP) and Outpost Security Suite Pro 2008 (OSS). This new generation of Internet security solutions caters to individual users as well as small and medium businesses deploying the latest or older Microsoft operating systems.
Both the security suite and the personal firewall products are based on a new platform, utilizing a revamped, Vista-style graphical interface and lots of new and improved features. While providing even more security, Agnitum also managed to optimize performance, making both products very lightweight for users' systems.
Moreover, the new products are not just a set of features, but a set of everyday security services. All registered users receive the following benefits with round-the-clock security care:


Daily anti-virus updates;
Spyware definition updates;
Firewall rule distribution;
Application fingerprinting;
Host Protection updates;
Web site blacklist updates; and
Ad network updates.
Mikhail Penkovsky, global vice-president for Sales and Marketing, explained:
"Our key message with this new product line is not about the software itself, but also about everyday services delivered to all registered users. Nowadays it is not enough to update just virus or spyware signatures, you should take care of other key security areas as well. Agnitum does just that: besides virus and spyware definitions updates we deliver five additional services that make your protection more flexible and versatile. Our qualified engineers took care of seven areas to make all modules (firewall, antivirus, anti-spyware, host protection, and web control) of our Both the security suite work more efficiently. And this is for less than 14 cents a day for new users and about 8 cents a day for renewal licenses, not to mention the software itself."
Neither of the products requires lengthy or complete adjustment, however, they are designed to be customized according to user preference and security awareness. Novice users will benefit from a simple interface and comfortable default settings whereas advanced specialists can still create sophisticated configurations and make technical tweaks.
Outpost Firewall Pro 2008, which comprises a firewall and an anti-spyware plug-in, now offers the following innovations: