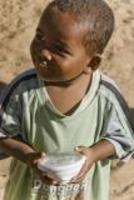 (PRWeb UK) September 21, 2010
ToughStuff, an international social enterprise founded by English and Dutch entrepreneurs, has today been announced as a Tech Awards Laureate 2010 for its work providing clean, affordable energy to the world's poorest people.
Toughstuff, which started trading just 15 months ago, has already sold more than 100,000 solar power kits benefitting 380,000 low-income consumers in Eastern and Southern Africa. ToughStuff's products have also been distributed to people living in temporary camps in Haiti following the earthquake.
The Tech Awards Laureate 2010 coincides with the start of Toughstuff's plans for rapid expansion into previously untapped markets in Africa and the rest of the developing world to meet the needs of the 1.46 billion people globally without access to electricity.
ToughStuff, with offices in London, Kenya and Madagascar, has been chosen from hundreds of applicants in 50 countries to receive the Laureate from the Tech Museum in California. The Tech Awards, sponsored by Applied Materials, Inc and other global organisations, is one of the world's top humanitarian awards programs, recognising technical solutions that address critical issues facing the planet and its people and that spark global change.
ToughStuff was established in 2008 by social entrepreneurs, Andrew Tanswell, who is English and based in London, and Adriaan Mol, a Dutch national living and working in Madagascar.
Andrew Tanswell believes ToughStuff 's unique and commercial approach benefits very poor people in the most remote places in the developing world.
"On the back of our success in Kenya and Madagascar we are now planning rapid expansion across Africa, a vast unreached market. Poverty will primarily be combated through enterprise not charity. The Tech Awards laureate is a timely endorsement of our business model."
ToughStuff is a "triple bottom line" business that achieves financial, social and environmental returns by selling solar energy solutions to the 1.46 billion people in developing countries who have no access to electricity.
ToughStuff designs and distributes robust, affordable, portable products which can weather the harsh conditions of developing countries. The products include solar panels, LED lamps and battery packs to power radios and mobile phones. These replace kerosene, candles and dry-cell batteries which are costly, polluting and damage health.
ToughStuff believes its solar products have similar growth potential in Africa as mobile phones. In Africa alone over $ 27 billion is spent on sources of energy such as kerosene, candles, batteries and mobile phone charging in areas where there is no electricity.
Adriaan Mol, Madagascar-based Operations Director, said: "ToughStuff products cut the cost of light and power so people have more money to spend on food, education, health and enterprise. That's why ToughStuff products are in huge demand, and appear to be following a similar growth trajectory to that of mobile phones. We have enormous numbers of potential customers."
ToughStuff has developed innovative distribution systems to get products to remote settlements. For example, through a "Business in a Box" program Village Solar Entrepreneurs sell and hire out solar panels and chargers. The scheme has already attracted Dutch Government funding.
George Gitau, ToughStuff's Kenya-based East African manager, said: "The success of ToughStuff in Kenya and Madagascar shows we have a winning formula which customers love. Our plans to grow our business rapidly will increase the number of people who we can help improve their lives and save money."
Tech Awards laureates are selected by a prestigious panel of international judges organised by the Centre for Science, Technology and Society at Santa Clara University, California.
Peter Friess, president of the Tech Museum, said: "The global challenges of the day have become increasingly strident, more deeply rooted.
"Still there is hope. These incredibly impressive laureates have all proven to be equal to, or better than, the challenge to make the world a better place. By celebrating their accomplishments today, we are encouraging future innovators to work toward solutions to make the world healthier, safer and more sustainable."
The Tech Awards laureate will be formally bestowed at a Gala hosted by the Tech Museum in San Jose on November 6. ToughStuff will also find out at the Gala if it is one of the five laureates who will also receive a $ 50,000 cash prize. If successful, ToughStuff will use the prize money to provide emergency kits to large-scale crises including the Pakistan floods and the Haiti earthquake. Ends
Notes to Editors

Contact Information

www.ToughStuffonline.org

Roger Hattam +44 (0) 20 72610983 +44 7768 801174 (m) Roger.hattam(at)ToughStuffonline(dot)com

Ros Dawson +44 (0) 1274 561241 +44 7720 882512 (m) ros(at)rosdawsonmedia(dot)co(dot)uk
To receive a sample ToughStuff solar panel and LED lamp or for high resolution photographs and videos, please contact the above.
More About ToughStuff

Videos: ToughStuff in 60 Seconds: http://www.youtube.com/watch?v=fRG7UjDdv7Y

What our users are saying about ToughStuff: http://www.youtube.com/watch?v=wT1BI2SII5I

How ToughStuff is Helping Families: http://www.youtube.com/watch?v=RcRV0S8Wsbw

ToughStuff establishing Village Entrepreneurs: http://www.youtube.com/watch?v=-q0Ft3tsez8

How Tough is ToughStuff: http://www.youtube.com/watch?v=m4iqzAmVqFA
Over the past 15 months ToughStuff has brought clean and affordable energy to 380,000 low income people in the developing world and saved 1,800 tonnes of CO2 emissions. ToughStuff products help to:

    Save consumers money and help lift them from poverty
    Cause a significant reduction in CO2
    Remove the environmental damage of discarded batteries
    Enhance health by decreasing exposure to kerosene fumes
    Improve study and educational opportunities thanks to dependable light sources
    Increase micro enterprise employment by supporting local ToughStuff entrepreneurs.
ToughStuff is the winner of the 2010 NEMEX Renewables Innovation Award sponsored by British Gas at this year's Environment and Energy Awards.
How ToughStuff can change lives – Case studies
1 – Tahiry, a case study, available for interview.
This is a link to a low resolution video about Tahiry, a Business in a Box Entrepreneur, (high res available) http://www.youtube.com/watch?v=0ImMvmODA6w
In Madagascar, Tahiry, aged 25, has taken ToughStuff's Solar Village Entrepreneur program to new heights. As a recent university graduate who could not find employment, he raised money from his family to become one of the first ToughStuff Solar Village Entrepreneurs (SVE). The SVE program enables entrepreneurs to create a livelihood by providing lighting within their community. An entrepreneur typically purchases between 30 and 50 solar panels and LED lamps that they then rent to villagers for the same prices as candles or kerosene. For the same cost, the LED light is brighter, healthier, and safer.
Tahiry started with 30 lamps and panels. After his first week he returned to the ToughStuff office to buy more, "The students are angry with me that I don't have enough lights for them all. They need light to study!" Tahiry now has 2 employees and 115 solar kits – lighting over 10% of the village. One of the employees recently noted: "ToughStuff has become so ingrained in the village that I can't imagine life without it."
2 - For more information about how ToughStuff is helping improve information and security for elderly people living in temporary camps following the earthquake in Haiti: http://www.reliefweb.int/rw/rwb.nsf/db900SID/FGAI-893SJH?OpenDocument
Biographies

Andrew Tanswell is a social entrepreneur; the CEO and joint founder of ToughStuff. He trained as an engineer and later worked as a management consultant building up his own niche change management consultancy firm. His international relief and development experience includes working with Medair in Iraq and Somalia as well as providing strategy and business development advice to large charities. He was the Executive Director for Micah Challenge UK before founding ToughStuff, a social business which aims to lift millions of people out of poverty through enterprise. Andrew was one of the winners of the 2009 Global Social Business Incubator for Social Entrepreneurs sponsored by the Skoll Foundation.
Adriaan Mol is an aid worker turned social entrepreneur and joint founder of ToughStuff. His awards include Winner of Global Social Benefit Incubator, Santa Clara University, California, 2006 and Winner of World Bank global Development Marketplace award, 2005 for BushProof, a social-enterprise that became a forerunner in the field of innovative drinking water supply. Adriaan has many years experience in organizational and strategic management of NGOs. His areas of expertise include design, implementation and evaluation of relief and development projects in Africa and Asia, including (civil) war and natural disaster situations. He also has technical expertise in (emergency) water supply, rural (social) marketing, well drilling, appropriate technology, and entrepreneurial approaches to poverty reduction including base of the pyramid (BoP) business.
About the Tech Awards

Established in 2000, The Tech Awards recognizes 15 Laureates in five universal categories: education, equality, environment, economic development and health. These Laureates have developed new technological solutions or innovative ways to use existing technologies to improve significantly the lives of people around the world. One Laureate in each category will receive a $ 50,000 cash prize during the annual Awards Gala in Santa Clara, California on November 6.

This year, the Laureates represent the truly global vision of the program, spanning countries such as Brazil, Bangladesh, the Philippines and the Bay Area. Their work impacts people in many more countries worldwide.
The Tech Awards collaborates with humanitarian, educational, and business partners through global outreach efforts, giving people around the world the opportunity to benefit from the successful technologies recognized through The Tech Awards. The selected Laureates' projects address multiple humanitarian efforts including developing alternate ways to generate electricity, irrigate land, creating free educational tools, offering affordable solutions for learning English, and helping indigenous people in the Amazon eliminate deforestation on their territory.
Key sponsors supporting The Tech Awards include Applied Materials, Inc., Intel Corporation, Nokia, Microsoft, The Swanson Foundation, BD Biosciences, Polycom, Genentech, Wells Fargo, SAP, eBay, KPMG, Accenture, The Quattrone Foundation, Google, NBC11, Ogilvy Public Relations Worldwide, The Fairmont San Jose, Montgomery Hotel, Marriott San Jose and American Airlines. Key partners include Santa Clara University's Centre for Science, Technology, and Society, World Federation of United Nations Associations, United Nations Development Programme, World Bank Institute, Catholic Relief Services, The CORE Group, National Centre for Technology Innovation and Opportunity International.
For more information about The Tech Awards, visit www.techawards.org. Nominations for 2011 will be accepted beginning October 1.
About The Tech Museum of Innovation

The Tech Museum is a hands-on technology and science museum for people of all ages and backgrounds. Located in San Jose, California – the Capital of Silicon Valley – its mission, as a public-benefit corporation, is to inspire the innovator in everyone. Through hands-on exhibits, educational programs, The Tech Challenge team competition for youth, and the internationally recognized The Tech Awards, presented by Applied Materials, Inc., The Tech Museum honors the past, celebrates the present, and encourages the development of innovative ideas for a more promising future. For more information about The Tech Museum, visit www.thetech.org.
###