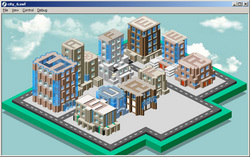 Victoria, B.C. (PRWEB) December 4, 2007
Hot on the heels of their launch of PGsurfer, a free parental controls software application, ParetoLogic unveils a new website for kids that focuses on responsible and safe online behaviour. Safesurfer.org is a unique, free website that is tailored specifically to youth from the ages of 8-14 that offers them a forum, games, video and computer game reviews, entertainment updates and news about the newest websites and applications, all with an underlying theme of responsible and safe Internet use. A safe place for kids to access the information they crave, this website is continually updated with user-generated information and is constantly fed with discussions and tips on how to keep safe on the Internet.
"We recognize that kids and teens are the experts on their own Internet usage and experience. The Internet is an integral part of their lives and parents are finding it really difficult to provide guidance in this realm," Says Amanda Cooper, Director of Communications at ParetoLogic. Addressing all things Web related for today's youth, SafeSurfer.org provides kids a space to share information regarding the newest websites, Instant Messenger, and social networking sites such as Facebook and Myspace.
Noting that the impetus for creating the site came from the alarming increase in online predators and cyber-bullying, Cooper credits ParetoLogic's CEO, Elton Pereira, for making children's online safety a priority. Stressing the motivation that drove the initiative, Pereira states, "We have the expertise and resources to make a difference. If we can save just one child from becoming the victim of an online threat, it will be worth it."
About ParetoLogic, Inc.:

In 2004 four brothers recognized that modern computer users need not rely on computer repair technicians to maintain their own PC's. Knowing that sophisticated technology married with a truly user-friendly interface would empower people to secure and optimize their own computers, the brothers researched the marketplace to define and develop the software products that would most benefit today's computer user.
ParetoLogic now employs 105 professionals to help them research, develop, and market software applications that will enable people to secure and enhance their computing experience. Available in eight languages in 186 countries around the world, ParetoLogic has established partnerships on a global scale to ensure that its products are available to all computer users, regardless of location, language, or computing experience.
Attention to the needs of the consumer coupled with a commitment to delivering exceptional software applications and resource-rich websites guarantee that our products will exceed your expectations.
###