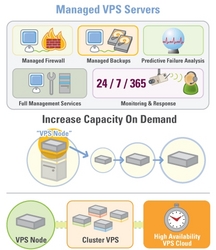 Cartika Managed VPS Solutions
Toronto, ON (PRWEB) December 22, 2009
Businesses in search of highly developed, reliable and enterprise grade VPS solutions need look no further than Cartika's new Citrix Xenserver based VPS offerings. Cartika redefines the standard for VPS hosting services by offering a range of managed solutions. Offering a wide array of popular control panels as well as support for Linux and Windows Operating Systems, both clustered and non clustered solutions, in addition to an easy-to-use web interface which includes the ability to add additional resources on demand, reboot, re size, console or remote desktop access and unparalleled client assistance.
Cartika Citrix Xen Server VPS solutions feature completely redundant network infrastructure, Powerful LAN and WAN configurations, RAID10 SAS drive arrays, scalable architecture, clustered architecture, load balancing options and fully managed environments. Complimented by predictive failure analysis, Continous Data Protection and enterprise grade Anti-Spam and Anti-Virus features.
Cartika CEO Andrew Rouchotas explains that the unique aspect of its Citrix Xenserver solution is that it provides true hardware level isolation, dedicates CPU and RAM allocations and allows customers to utilize solutions they are already accustomed to using. By dedicating CPU cores and RAM, customers are able to purchase exactly what resources they require without worrying about battling for resources with other customers and without being concerned about their providers allocation rates, allowing them to seamlessly scale to larger instances and dedicated servers.
"Our Citrix Xen Server VPS offering allocates and guarantees CPU cores and RAM to our customers. Typically, VPS hosting customers are put into a scenario where they rely on their provider to manage their allocation rates properly and trust that the resources they need will be available when they require it. We are able to dramatically increase the resource availability and capacity to any given customer by allocating and guaranteeing physical resources to each customer. Additionally, we are able to increase capacity to any customer when and if required. Customers can add or remove resources as required and pay for use. Offering Console or Remote Desktop access right from our web interface as well as giving customers access to platforms and control panels they are already using makes the transition from other providers painless and seamless for our customers."
Users get access to a billing and management portal which allows them granular control of their resources as well as console or remote desktop access. Additionally clients can choose from several common and popular Windows and Linux hosting control panel systems to manage domains, email, ftp, stats and web options control for each domain and DNS zone.
The Cartika Citrix Xenserver VPS solution is a premium hosting service attracting customers across all industries, sectors and company size. With their range of services, Cartika specializes in providing small to medium sized and enterprise businesses the very best in high availability web hosting, complete with service that includes security firewalls, load balanced architecture, redundant storage arrays, continuous data protection, mail foundry anti-virus and anti-spam protection, and much more.
"The TCO (Total Cost of Ownership) analysis for the Managed Cartika Citrix Xenserver VPS solution is very strong for any business serious about their website performance, availability, and scalability. Starting at $ 125 a month, a business can acquire real hardware virtualization with guaranteed resources and true scalability for all of their core services."
About Cartika

Founded in Toronto in May 2002, Cartika Inc has established itself as a leader in Application Hosting utilizing advanced clustering technologies. Advanced web hosting facilities, combined with our intricate knowledge in several best of breed Open Source and Commercial Applications, Cartika can web enable your core business processes.
For more information on the Citrix Xenserver VPS hosting solution by Cartika, please visit www.cartika.com
Media contact:

Erin Latimer

Phone: 416-703-8684x402
###
Tagged as: Array, Cartika, Citrix, Control, Flexible, Offers, Options, Panel, Reliability, Solutions, Superior, Virtualization, Xenserver
Leave a comment
Pages
Categories
Blogroll
Archive
Meta