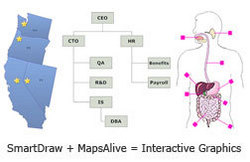 Waitsfield, VT (PRWEB) October 24, 2007
AvantLogic, makers of MapsAlive®, the web application that makes any online image interactive, today announced that it has partnered with SmartDraw.com, creator of SmartDraw®, the world's most popular business graphics software. The partnership allows MapsAlive customers to use SmartDraw to create professional-quality business graphics such as org charts, process diagrams, maps, medical diagrams, and floor plans and turn them into interactive online graphics. Graphics created with SmartDraw are uploaded into the MapsAlive application where markers, photos and text are added to provide an interactive presentation for web pages.
"This partnership is a winning combination - if you can create it with SmartDraw, you can easily make it interactive with MapsAlive," said Tom Clark, Sales and Marketing Director for MapsAlive, "Great-looking interactive online graphics can really enhance your web pages. Viewers simply mouse over an image to see photos and text related to a specific area of a diagram. Interactive graphics let the viewer see more information in a dynamic way."
"MapsAlive complements SmartDraw perfectly. Our customers can use MapsAlive to make their business graphics interactive," said Ken Roberts, Director of Product Marketing, SmartDraw.com, "SmartDraw likes to work with up and coming technology companies and we are pleased to be working with MapsAlive.com."
SmartDraw, the premier developer of business graphics software, with over ten million downloads includes thousands of maps, graphics, and symbols that make it easy to create images for use with MapsAlive. Both programs are designed so anyone with basic computer skills can use them. MapsAlive creates interactive tours that can be embedded inside web pages or used as standalone web sites. Every tour has its own URL that can be linked to from a web page or an email, or used in print or online advertising. Interactive tours are hosted by MapsAlive.com and are available to anyone in the world 24/7.
To learn more about making interactive online graphics, maps, and diagrams and for special offers, please visit mapsalive.com.
About AvantLogic Corporation:

AvantLogic is the creator of MapsAlive, a web tool that allows anyone to make their online graphics, maps, and diagrams come alive by turning them into interactive tours. Industries such as real estate, cartography, travel, online media, and hospitality use MapsAlive to create interactive content for their websites. AvantLogic also offers custom interactive tour building services.
Based in Waitsfield, Vermont, AvantLogic was founded in 1999 as a software consulting company specializing in web applications, commercial grade software, and safety-critical computer systems. AvantLogic has worked on projects for companies such as ABC Television, Bombardier, DaimlerChrysler and the New York Power Authority. AvantLogic developed, owns, and operates MapsAlive.
About SmartDraw.com:

SmartDraw.com is the creator of SmartDraw, the world's most popular business graphics software and the first program that makes it possible for ordinary computer users to create presentation-quality business graphics in minutes. Each year more than two million people install and use SmartDraw and the company counts more than half of the members of the Fortune 500 as loyal customers.
Founded in 1994, SmartDraw.com is privately-held and based in San Diego, CA. In addition to SmartDraw 2008 for general business and home use, the company also offers SmartDraw Healthcare and SmartDraw Legal editions which include graphics and applications unique to their respective fields. For more information on the company please visit smartdraw.com.
Contact:

Janice Kenyon

Public Relations Director

MapsAlive.com

(802) 496-9140

http://www.mapsalive.com
###
Related Graphic Press Releases