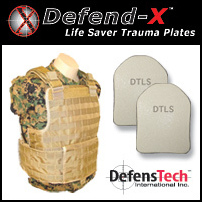 Huntington Beach, CA (PRWEB) September 12, 2006
Identifying the need for a more durable, cost-effective body armor that will help both the U.S. Military and law enforcement agencies reduce the risk of injury and fatality to men and women in the field, company officials at DefensTech International, Inc. have announced the introduction of Defend-X™ the first proven, non-ceramic, multiple-hit stand alone trauma plates available on the market today.
Unlike the fragile, ceramic trauma plates currently used by the U.S. Military that can fracture when dropped on hard surfaces, potentially causing them to fail, DefensTech CEO Alan Sporn said the Defend-X™ Life Saver Trauma Plates are virtually unbreakable, even in the most extreme battle conditions.
"Defend-X™ Plates are certified by the National Institute of Justice to Levels III and IV, making them capable of performing under extreme duress," Sporn said.
According to Michael Jewell, president and director of research and development, the fragile makeup of the military's current ceramic trauma plates present multiple opportunities for failure in the field. Ceramics also require special handling to preserve their ability to stop bullets, Jewell said, which is clearly indicated by the manufacturer issued operator-warning label printed on the ceramic plate identifying the need for "special handling."
"Defend-X™ Trauma Plates do not require "special care," unlike the current ceramic systems," says Jewell. The Use and Care manual for Ceramic Trauma Plates clearly states, "Before Insertion, check for rattling pieces, flexing or delamination. Turn in if these occur." On the back of the Use and Care Manual, a bullet comment clearly states "To preserve ESAPI ballistics DO NOT drop, throw, stand on, sit on, use to pry or hammer, or otherwise abuse." The durable Defend-X™ Trauma Plates do not need to be checked for rattling or fracturing.
"If a service member does a combat roll in an urban environment, they've just dropped their plate on a hard surface," says James Larsen, vice president of sales for DefensTech International, Inc and a veteran of the U.S. Army. Ceramic Plate technology incorporates fracturing as the performance feature that stops the bullets. This is why troops have to handle the plates carefully. "The odds of a ceramic plate remaining 100% serviceable in combat conditions are not in favor of the troops. No service member should have to worry about their plate impacting the concrete when they have to dive for cover from incoming rounds. The concern arises when they return fire. They have to wonder if their plate is now damaged – and that question of protection will linger until a new plate is issued."
With Defend-X™ Life Saver Trauma Plates, the stress of determining whether the plate is serviceable or not can be eliminated. Simultaneously, Defend-X™ Trauma Plates increase the overall life cycle of the trauma plate while reducing overall long term acquisition costs. DefensTech International, Inc. is the only manufacturer to offer a five-year warranty on their trauma plates.
About DefensTech
DefensTech International, Inc., headquartered in Huntington Beach, California, is a manufacturer of ballistics polymer process-based Trauma Plates and blast mitigation coatings. DefensTech owns the exclusive process patent that is the core component of the technology that surpasses current ceramic technology. For more information, visit www.defenstech.com or contact Chris Thompson, marketing/communication manager, at (714) 657-7977.
###