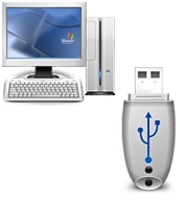 Moscow, Russia (PRWEB) February 3, 2009
MDO Ltd today announced the availability of the new version 3 of eBoostr™, unique software tool to increase the performance of your Windows PC by using available flash memory and free RAM as an extra layer of performance-boosting cache. With new features and enhanced functionality, eBoostr™ now makes it easier and faster to configure the product and gives user a better control over the applications to accelerate.
eBoostr™, working as an alternative solution to ReadyBoost® and SuperFetch® technologies, implements a different advanced approach to use flash memory to speed up your computer. The product speeds up applications loading times, improves overall responsiveness and makes your system run smoother. New version 3 now works on Microsoft® Windows Vista® effectively adding yet another layer of performance-improving cache to those built-in technologies. More than 2000 beta testers reported visible results on Windows Vista® regardless of the amount of memory (RAM) installed.
Better Performance
Several improvements in load balancing mechanism, read requests parallelization in the new version optimize a hard disk and cache devices load leading to higher overall read speed and better performance.
More Accurate Statistics
New "flood control" feature detects massive file read requests from an antivirus, anti-malware scans, local computer search utilities etc., and effectively discards them from the working statistics. This ensures that the cache contents will have an optimal state and no space will be wasted with unneeded files or data.
Applications Priority
Now you can decide which applications you'd like to be loaded into the cache for more acceleration. To give a priority for an application of your choice just drag-and-drop it from the list of detected apps or drag-and-drop an application shortcut from your desktop or start menu into the accelerated applications list.
System Requirements
eBoostr™ runs on any PC with Windows Vista/XP/2000/2003/2008, and allows using up to 4 cache devices with unlimited cache size on each device. The only requirement is USB 2.0 version (USB 1.1 is too slow.) eBoostr™ supports as cache devices:

USB thumb flash drives (ReadyBoost® Enhanced recommended);
flash memory cards (CF, SD, SDHC, MMC etc);
direct RAM cache or RAM disks;
Intel® Turbo Memory (on Windows Vista® only);
Solid-state drives (SSD);
As well as additional hard disks.
Pricing and Availability
The free fully-functional trial version is available for download immediately from the eBoostr website at http://www.eboostr.com/download/
The electronic download version is available for purchase through authorized reseller channels and eBoostr website. eBoostr 3 comes in four editions: "Lite" ($ 19), "Desktop Edition" ($ 24), "Laptop Edition" ($ 29) and "Pro" ($ 39). Business site licenses and volume discounts are also available.
About MDO
MDO (Moscow Development Office) was founded in 1994 and since then through creative work of its team of developers has gained a stable position in the field of software and internet development, as well as high acclaim from users all over the world for its digital photography product line, FirmTools. Its new product, eBoostr, was developed by the company division organized specially for this project. For more information about the company and products, please visit the website.
(*) eBoostr™ is a trademark of MDO Ltd. Windows XP®, Windows Vista®, ReadyBoost®, SuperFetch® are registered trademarks of Microsoft Corporation. Any other trademarks or service marks contained herein are the property of their respective owners.
###
Find More Ram Press Releases