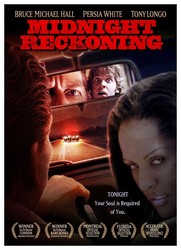 Northridge, CA (PRWEB) September 21, 2010
Following the theatrical release of its film "Midnight Reckoning" in Los Angeles and 20 other cities in early October Winter Star Productions will be simultaneously bringing to market the graphic novel based on the movie along with the movie's DVD debut on October 19, it was made known today by writer-director Derrick Warfel. For two years Warfel mulled over the possibility of turning his original screenplay/feature film into a graphic novel to reach a new audience and broaden the film's appeal because he felt it fit into that dark, edgy genre of popular graphic novels like "Sin City", "Walking Dead", and "Whiteout."
However, it was not until the imminent distribution of his movie theatrically and on DVD that he decided to bite the bullet. "People told me that creating a graphic novel can take six months, and we only had 60 days. But I felt so strongly that the movie storyline lent itself to the mood and style of a graphic novel that I had to do it."
Finding the right illustrator was the sticking point. Warfel went through referrals from friends in the animation and comic industries, but no one with the necessary talent could work within the time frame and budget that he had. He even considered overseas outsourcing to save costs, but he couldn't find the quality or control. Finally, an ad on Craigslist turned up an emerging comic superstar with a keen eye for conceptual graphics, Alec Joler. Joler, a director and cinematographer in his own right, was first spotted by Videomaker Magazine for its Young Filmmaker Award while he was still in high school.
Since then Joler has gone on not only to make many more award winning short films, but also to storyboard 35MM feature films, illustrate book covers, illustrate comic book covers, and even do background screen illustrations for the Hanna Montana/Jonas Bros. Music Tour. But, he has yet to pen a full length graphic novel and he has said that he wants the chance to show off "his stuff." An early preview page of the comic under "Press" on www.MidnightReckoning.com shows the "stuff" he's got.
Assisting in the process is Vice President of Winter Star Entertainment, Paul Moran, who acts as an art director in helping keep the project on schedule and in helping Joler translate Warfel's novel script into the visual adaptation. "We didn't just want a graphic novel that would merely parrot the movie, we wanted an original work that had its own voice." Warfel also commented that he did not want the characters to look exactly like the movie but to have their own distinctives, as if the comic were a remake of the film but in a different medium.
This points to a larger movement in filmmaking known as transmedia, where stories no longer stay in one media anymore but are often remade into many others. The movie itself is just one reincarnation of the story along with novels, action figures, music CD's, t-shirts, and now graphic novels. However converting movies into graphic novels is a very new trend. A Google search on "movies into graphic novels" turns up a blank, and instead only gives listings of graphic novels into movies.
Since 1989 starting with the "Batman" movie series over 120 comic books have been turned into feature length movies, compared with only about 30 such films from 1900-1985. Yet, this is not a surprising development since Box Office Mojo states that the average movie based on a comic/graphic novel yields $ 155 million in worldwide box office sales. Studios have long known that the lion's share of their box office comes from teens and singles in their twenties who see films opening weekend, who see them multiple times, and who tend to gravitate towards films from comics and graphic novels. Now the reverse questions are: how many movies will be turned into graphic novels; and, will these become comic book hits? It gives a new meaning to the old phrase "See ya in the funny papers."
###