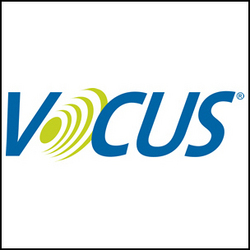 Lanham, MD (Vocus) May 15, 2008
Vocus, Inc., (NASDAQ: VOCS) a leading provider of on-demand software for public relations management, today announced that the company has been named as a finalist for the High Tech Firm of the Year award by the Tech Council of Maryland. The award recognizes organizations which have innovative technologies and products that are making a difference in the way companies do business.
Winners will be announced at the Tech Council of Maryland's 20th Annual Dinner and Tech Award Celebration on May 15, 2008 at the Bethesda North Marriott Hotel and Conference Center. The largest and most prestigious awards ceremony in the Mid-Atlantic region, the event celebrates the accomplishments emerging from the technology and biotechnology community. Register online at https://techcouncilmd.com/events/detail.php?list=Events&laction=detail.php&evt_id=85.
The Tech Council of Maryland (TCM) is Maryland's largest technology trade association which brings its 500 plus members access to technology industry leaders in Maryland, DC and Virginia. TCM has two divisions which provide valuable resources and benefits to help businesses succeed. The Tech Alliance serves the advanced technology community and MdBio serves the Maryland biotechnology community.
About Vocus, Inc.

Vocus, Inc. (NASDAQ: VOCS) is a leading provider of on-demand software for public relations management. Our web-based software suite helps organizations of all sizes to fundamentally change the way they communicate with both the media and the public, optimizing their public relations and increasing their ability to measure its impact. Our on-demand software addresses the critical functions of public relations including media relations, news distribution and news monitoring. We deliver our solutions over the Internet using a secure, scalable application and system architecture, which allows our customers to eliminate expensive up-front hardware and software costs and to quickly deploy and adopt our on-demand software. Vocus is used by more than 2,600 organizations worldwide and is available in five languages. Vocus is based in Lanham, MD with offices in North America, Europe, and Asia. For more information please visit www.vocus.com or call 800.345.5572.
This release contains " "may," "will," "expects," "projects," "anticipates," "estimates," "believes," "intends," "plans," "should," "seeks," and similar expressions. Forward-looking statements involve known and unknown risks and uncertainties that may cause actual future results to differ materially from those projected or contemplated in the forward-looking statements. Forward-looking statements may be significantly impacted by certain risks and uncertainties described in Vocus' filings with the Securities and Exchange Commission.
###