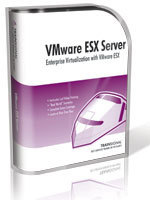 Rolling Meadows, IL (PRWEB) January 31, 2008
Train Signal is pleased to announce the release of its new training videos for VMware ESX Server. The high-quality computer training course gives IT students and professionals more than 15 hours of instructor-led training on the rapidly growing server virtualization product, VMware ESX Server.
"With the increase in IT management costs and in the physical infrastructure, coupled with the underutilization of the infrastructure comes a need for virtualization. That's where VMware steps in." said Train Signal's Director of Sales and Marketing, Gary Eimerman.
The training videos give users an in depth step by step path to mastering VMware ESX Server. By the time they are done viewing the training they will:

    Discover what virtualization is and how to utilize it
    Learn how to install VMware ESX Server, along with VMware Virtual Infrastructure and VMware Virtual Center
    Master the Virtual Infrastructure Client's Interface
    Discover how to create clients, virtual appliances, resource pools, clusters and much more
    Learn how to clone and migrate virtual machines
    Discover how to optimize the hard disks, memory and CPU
The comprehensive videos are a refreshing alternative to the expensive training provided in a classroom setting that can costs well into the thousands of dollars. Viewers can learn at their own pace and at a fraction of the cost of taking a traditional class. The CBT (Computer Based Training) course provides superior instruction that can benefit anyone, from job seekers to network administrators seeking virtualization training.
"We offer practical IT training--not just a bunch of technical details," said Gary Eimerman. "We actually show you how to use VMware in real-world situations."
Train Signal's VMware ESX training videos are taught by David Davis (Linux +, CCIE #9369, CWNA, MCSE, CISSP, SCSA). David Davis has been in the IT industry for over 12 years and currently manages a group of systems administrators for a privately owned retail company and authors IT-related material.
A privately-held company, Train Signal offers more than 30 Microsoft, Cisco, Comptia and VMware computer-based training videos. In addition to VMware ESX Server, video courses include VMware Virtual Server and Workstation, Microsoft Virtual Server, Microsoft SharePoint Server, Microsoft Exchange Server 2007, Cisco CCENT and Cisco CCNA. The training software is sold on CD and on an external hard drive with the purchase of the complete library of training.
Train Signal's VMware ESX Server training videos and other training resources are available at www.trainsignal.com. For more information, please visit the Website or call 888-229-5055.
# # #
Related Cpu Press Releases