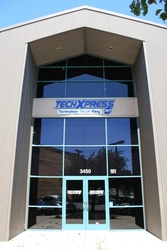 San Luis Obispo, CA (PRWEB) September 24, 2010
The Cambria Community Services District (CCSD) recently awarded San Luis Obispo-based TechXpress with an IT outsourcing contract for providing technical support services for their computer network system. Several IT companies were involved in the competitive bidding process which also included replacing the District's outdated servers.
TechXpress commenced by performing a detailed network assessment for CCSD. "TechXpress performed a thorough audit of our IT system, which was not only expeditious, but the results were intelligibly and professionally presented," said CCSD General Manager Tammy Rudock. "This is an excellent resource for the Cambria CSD."
Once the assessment was completed, TechXpress presented a technology roadmap for securing and stabilizing the District's network environment. "TechXpress identified several priority areas of IT concern for the CCSD - the major one being a complete replacement of our server system - and that project was beautifully executed," said Rudock. "The server transition process resulted in little to no down time of our IT system and negligible impact upon staff."
TechXpress' ongoing IT services will involve overseeing the day-to-day operations of the CCSD computer network by means of their NetGuard IT managed services offering. The service contact includes 24/7 monitoring and maintenance, security consulting; data backup management; user help desk support and software training; strategic planning; and special public agency discounts on hardware and software.
"Our all-inclusive fixed monthly IT management fee model is proactive and well received, particularly in the current economic downturn," said TechXpress Founder & CEO Bryan Sarlitt. "We are seeing a growing trend toward outsourcing of IT management amongst public agencies as a way to streamline costs and keep technology up to par."
"The CCSD has so far received what TechXpress promised - prompt response and resolution of IT problems, around the clock," said Rudock. "They truly serve as extended staff to the CCSD. I'm glad TechXpress is part of our service team."
About TechXpress
TechXpress specializes in helping organizations operate more efficiently and profitably by improving their use of technology. From computer & network management to cutting-edge Website and eCommerce solutions, we are committed to providing significant value to our clients, and living up to our slogan, "Your Technology Partner".
# # #
Find More Tech Press Releases