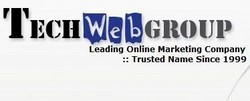 Brighton, MA (PRWEB) August 31, 2010
Boston-based web marketing company TechWeb Media acquired search engine optimization company The Visibility and link-building business Manhattan Service to combine efforts and expand services to its current and future client base. The new venture changed its name to TechWeb Group and will focus on all aspects of search engine marketing.
TechWeb Group will use more resources and new tools to keep up with technology and marketing trends. "Our mutual goal is to focus on leads and traffic for our clients. This merger gives us more room to provide additional services such as integrated marketing and social media promotions. I am really exited," said TechWeb Media founder Sergey Rusak. He also added: "We are working to bring trust and loyalty to our new name. Our customers already see improvement in our services and support."
TechWeb Media is a fast-growing web marketing company founded as SEO company in Boston, MA. The company has years of experience in search engine optimization, social media services, web design, and corporate blogging. Despite a relatively young age, the company has already worked with over 200 companies including Chapel Hill Tubal Reversal Service, Relationship Headquarters, EveryNote and many others.
###
Find More Tech Press Releases