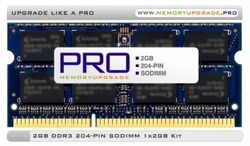 San Jose, Ca (PRWEB) January 19, 2010
In today's economy upgrading a computer can be vital by saving money and prolonging computer, server or laptop life span. PRO Memory Upgrade delivers higher quality factory made memory upgrades and allows customers to seek the best deal they can while helping to extend the use of systems.
Distribution of memory modules made by actual DRAM makers is step one. When mega-computer maker Apple builds a computer, it uses a particular brand and specification quality. They procure modules from the manufacturers of the DRAM, makers like Samsung, Hynix, Micron and Nanya. PRO Memory Upgrade delivers these same brands and part numbers as the core of their RAM product line. This quality insures stability and enables older computers to maintain usefulness. Step two: Offer shoppers a chance to bargain and save money, by submitting offers and lower bid prices before they check out. This incentive saves users and offers an alternative to buying a new computer. PRO Memory Upgrade is aware of tight competition in the online memory market and wants to allow computer users to find the best deal on the higher quality memory upgrades they offer. Saving can be substantial when purchasing memory upgrades for entire IT departments, government offices, schools and corporate offices. The quality of memory modules sold by PRO Memory Upgrade is on par with the best available in the market.
PRO Memory Upgrade ships a full line of server memory, laptop memory and desktop memory. Memory speeds ranging from DDR, DDR2 and DDR3 are supported. Configure computers that utilize modules types including, Registered, Fully Buffered, SO-DIMM and Unbuffered. Memory product line coverage for top computer makers such as Apple, Dell, HP, Intel, IBM, Sony, Sun and Toshiba. Many orders qualify for free FedEx ground shipping and because of the willingness to make deals with customers, shoppers can get some of the best online prices anywhere.
PRO Memory Upgrade uses a proprietary asset management logic to bring state of art computer memory modules to the retail sales channel. Along with the bid before you buy option shoppers can extend the use of current systems.
###
Related Ram Press Releases