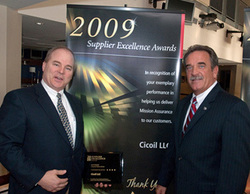 Valencia, CA (Vocus) March 11, 2010
Cicoil has been recognized for its quality and delivery performance by Raytheon Integrated Defense Systems. Cicoil received a prestigious 4-Star Supplier Excellence Award at a recent ceremony held at Gillette Stadium in Boston, Massachusetts. Cicoil was recognized for its 100% quality score and 100% on-time delivery performance in 2009. Cicoil high-performance cable assemblies are utilized in many of Raytheon's advanced missile systems, including AIM-9X Sidewinder, RAM Missile, EKV, and Patriot Missile systems.
Raytheon measures its suppliers based on three important factors: on-time delivery measures, sustained performance on quality and commitment to continuous process and quality improvement. "Our unique high-flex cable assemblies provide an unprecedented level of technological capability for Raytheon's missile products," said Cicoil's CEO Howard Lind. "We are extremely pleased to be honored by Raytheon with this prestigious award. Raytheon has over 5,000 suppliers, and to be recognized as one of only 40 suppliers to receive a 4-Star Award is a tremendous achievement. This award is a testament to the hard work and dedication of every Cicoil employee, as we continuously strive to provide the highest quality, combined with responsive, on-time delivery. The entire Cicoil team thanks Raytheon for recognizing our company for our hard work, and for our outstanding results."
Cicoil has been a leader in designing and manufacturing high performance cable assemblies for over fifty years. The company's unique silicone coated flat cables provide high flexibility, extremely long life, and they can withstand temperature extremes from -65 degrees to +260 degrees Celsius. Cicoil's cables are used in thousands of demanding applications, including aircraft fuel control cells, semiconductor automation, and the Space Shuttle. Cicoil designs and manufactures its cable and cable assemblies in an automated facility in Valencia, California. Cicoil's quality assurance system is certified to the ISO 9001 (AS9100) standard. Further information, application assistance, and sales inquiries can also be obtained by visiting www.cicoil.com , or by calling 661-295-1295.
###
Related Ram Press Releases