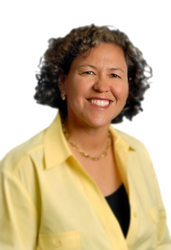 Cincinnati (Vocus) August 26, 2010
Education is moving to a place where learning is mobile, where students are involved in multiple projects at different times and where textbooks are not the sole resource available for students.
Those were among observations made by New Tech Network President Monica Martinez during a recent radio interview in Wellington, New Zealand with Kathryn Ryan, host of the popular Nine to Noon program on Radio New Zealand National. To hear a podcast of the program, aired August 18, click here.
Martinez was in New Zealand to participate in a symposium that looked at ways education is expected to change over the next decade. She shared elements of KnowledgeWorks' 2020 Forecast: Creating the Future of Learning, a tool to show how education is evolving into a world where learning is tailored to the needs of the individual student and brought to life by compelling, real-world experiences.
The event was hosted by Learning Media, an educational services provider once part of the Ministry of Education. New Zealand's Education Minister, Anne Tolley, and Education Secretary Karen Sewell were also part of the symposium.
On Nine to Noon, Martinez addressed a range of subjects from literacy to teaching to incorporating technology in the classroom.
"You would have students doing multiple things and different things at the same time. The teacher is no longer the sage on the stage who's the font of information and the only resource for information," said Martinez in response to a question about the classroom of the future. "The teacher is still leader of that classroom and is also mentor, is a coach and is a facilitator managing groups of students, managing individual students."
Martinez said that while she believes the school house can remain a "hub for where learning happens," it will be a place that prepares teachers to work across a distributive learning system where they can access multiple resources.
A subsidiary of Knowledgeworks, New Tech Network high schools offer an instructional approach centered around project-based learning and a culture that empowers students and teachers in a technology-rich classroom environment.
There are now 62 New Tech Network high schools in 14 states. Other KnowledgeWorks high school redesign models feature small schools, Early College High Schools and science, technology, engineering and math schools. All KnowledgeWorks high school models share an emphasis on personalized learning where students learn in ways that make sense to them.
"What we say at KnowlegeWorks and New Tech is, 'hey, let's reimagine teaching and learning and let's use these schools as a basis for that in the U.S. and across the globe,'" Martinez said.
Knowledgeworks is bringing the future of learning to America's high schools and creating widespread, lasting change in the communities and states we serve. Our portfolio of high school approaches includes New Tech Network high schools, Edworks high school redesign, Science, Technology, Engineering and Math (STEM) and Early College High Schools.
###