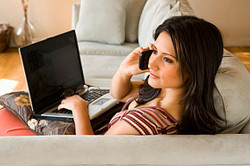 Boca Raton, FL (Vocus) May 4, 2010
In Home Computer Services – http://www.ihcomputerservices.com - is a new South Florida computer consulting company offering in-home services such as computer installation, wireless setup, networking setup, software updates and software upgrades, child protection, basic computer training, installation of new hardware such as a printer, camera or scanner, system upgrades, security – including spyware removal, virus removal, SPAM filtering, firewall software and hardware, data backup, data recovery and more to local home computer users.
The Boca Raton computer services company offers expert and affordable on-premise IT services to individual home computer users in Boca Raton, Delray Beach, Deerfield Beach, Coconut Creek, Coral Springs, Parkland, Lighthouse Point, Hillsboro Beach, Highland Beach, Margate and Pompano Beach. All services are performed by background verified computer consultants who speak English, Spanish and Portuguese.
The benefits of choosing In Home Computer Services for home computer services include:


    Affordable - 25% to 40% less per hour than other companies – providing top value for high-quality services in home.
    Discounts - for customers ages 55+ always 10% off hourly rate.
    Convenient - in the customer's home at a time that works for them.
    Fast - same-day personal response when customers call requesting service.
    Reliable - background verified consultants provide premium in-home computer services.
    Multi-lingual - computer consultants speak English, Spanish or Portuguese – customer's choice.
    Customized strategies – each client's needs are individually evaluated and personalized.
    PC experts - servicing any PC that is Microsoft Windows based.
    No travel charges.

"We started In Home Computer Services after seeing so many individuals in Boca Raton and surrounding towns struggling to keep up with technology for their home computers while fearing the high costs of in-home service," said In Home Computer Services CEO and founder, Gustavo Verdes. "We also recognized the population diversity in Palm Beach County and Broward County and therefore offer our services in English, Spanish and Portuguese – the customer has a choice. Our IT professionals provide high quality, affordable and reliable in-home computer services and home computer repair – we strive for world-class customer service," concluded Verdes.
In Home Computer Services charges $ 65 for the first hour and 30 minute increment billing after the first hour (30 minutes/$ 30). There is a one hour minimum charge and customers ages 55+ always receive 10% off hourly rates. There are never travel charges.
Visit http://www.ihcomputerservices.com for more information or call 561-285-1122.
Media Contact:

Ria Romano, Partner

RPR Public Relations, Inc.

tel. 786-290-6413
###