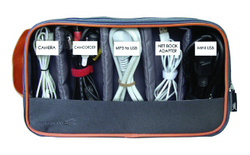 San Francisco, CA (Vocus) June 23, 2010
An innovator in the design of products for storage and organization, Kangaroom Storage announced today the launch of a new line of tech organizers, called Tech Tamers, designed to simplify the organization, charging and utilization of tech products and accessories. Alone, each organizer tames tech chaos by creating a labeled place for gadgets, cords and tech accessories. Together, these new organizing essentials provide a clean, sleek look to tech organization, while making it easy to find and use technology in busy daily life and travel.
"The new Tech Tamers line was conceptualized in response to the increased number of gadgets we all use everyday. Most people have at least one cell phone, camera, MP3 player, hand-held gaming device and headphones that they use on a daily basis and travel with. By taming the cords and accessories that are necessary for all of these electronic devices, we will enable our customers to always have their tech collection charged and ready to use when they need it. These sleek tech organizers, like our entire line of products, are focused on functionality, durability and simplicity." says Jeff Block, CEO & Founder of Blockware, LLC.
The Tech Tamer collection consists of 5 different organizers, each with a unique purpose. 1. The new and improved Personal Media Pouch stores adapters behind each device, simplifying the process of packing up gadgets and making it easy to keep track of tech essentials when out and about. 2. The On-the-Go Charger provides a place for gadgets and their corresponding adapters, as well as a power strip, and can convert into a tabletop tripod station for gadgets by folding the back cover. 3. Manage your multimedia entertainment system with the Remote Wrangler's color coded labeling system for simple operating instructions and storage unit for up to four remote control devices. 4. The Music Travel Pack allows users to carry quality sound everywhere by keeping headphones untangled and protected, while safely and efficiently stowing all other travel necessities in one centralized carrier. 5. The two-sided Cord Pouch makes tangle-free cord storage a painless process by supplying labeled sections for each cord. The Tech Tamers collection will be available for the public to purchase on and after July 15, 2010 at www.kangaroomstorage.com .
Customers, press and retailers are invited to visit Kangaroom's newly opened retail warehouse located in the South of Market district of San Francisco. Inquiries, interviews and product reviews are welcomed and encouraged.
About Kangaroom Storage

In the 4 years since its inception, Kangaroom Storage has gained international recognition as an innovative creator of organizing solutions for home, office, technology, and travel. They have garnered press coverage for their award-winning products including their popular Bamboo Laptop Stand, their Phone/PDA Wall Mountable Charging Station and their Stackable Storage Boxes. This year, Kangaroom's Recycle Bags were nominated for The Green Award for Most Eco-Friendly Organizing Product at the Los Angeles NAPO Awards.
Press Contact:

Karen Block

Director of Public Relations

415.305.6627 cell

415.522.0614 office
# # #