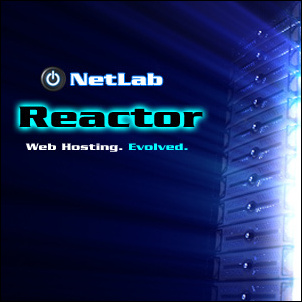 El Segundo, CA (PRWEB) April 9, 2007
NetLab, Inc. today announced the availability of its next generation grid hosting platform and service plans. Powered by 3tera's AppLogic™ Grid Operating System, the NetLab Reactor Grid replaces outdated single server hosting technology with a highly available, highly scalable grid infrastructure.
Until now, businesses, developers, resellers and individuals have been forced to rely on the specific, single server approach to hosting and all of its limitations. Complex, load balanced hosting environments have only been available to those with the requisite IT budgets. The emergence of grid hosting has removed this barrier, bringing unsurpassed performance at a price point usually associated with single server environments. With grid architecture, servers become applications that are freed from their underlying hardware and able to harness the combined power of ALL hardware on the grid in a uniform, scalable and load balanced environment.
"Anyone who has experienced data loss, extended downtime or service degradation can tell you about the limitations of traditional hosting technology," said Steve Harwood, President and CEO of NetLab. "NetLab was created in order to provide a next generation solution to these and other drawbacks and do so in a way that is scalable and affordable for a wide range of users."
A key area of NetLab's focus in bringing a true high speed grid platform to the web hosting market is its core network. "Our approach from the beginning was to insist on using only those components that were hardware optimized for grid computing. By doing this, we were rewarded with 100% confidence that our network provided the highest levels of throughput, security and stability under heavy load," said NetLab CIO, Joseph Dempsey. "From the selection of our Tier 4 datacenter, to the deployment of TopLayer, all the way down to the cabling, if it didn't meet our criteria, it wasn't used."
What Makes Grid Hosting Unique?


High Availability - Virtualization and storage mirroring allows the Reactor Grid to withstand multiple hardware failures with no impact on uptime or data integrity.
Scalability - Users can scale from a fraction of a server up to a full server with on demand burstable scaling.
Unlimited Capacity - Additional capacity can be added by simply adding servers to the grid. This eliminates performance bottlenecks common in single server hosting environments.
Vendor Neutrality - Through AppLogic™, the Reactor Grid is vendor neutral and completely compatible with existing operating systems, middleware and web applications. Billions of lines of tried and true infrastructure software, middleware and application code can be used unaltered.
Differentiation - Grid hosting allows Resellers to stand out in the outdated, commoditized world of traditional shared hosting.
Pricing and Availability
NetLab is celebrating the launch of its grid hosting services with limited introductory pricing on all Grid Hosting , Grid Reseller and Dedicated Grid Servers hosting plans. Custom Solutions (Private Grids) pricing is quoted upon request and review of hosting requirements.
cPanel Grid Hosting - plans start at $ 15/month for its Level 1 package; Level 2: $ 20/month; Level 3: $ 25/month.
Grid Reseller (with cPanel/WHM) - hosting packages start at $ 35/month for the R1 plan; R2: $ 45/month; R3: $ 70/month.
Dedicated Grid Servers - with dedicated RAM and choice of 5 linux distros start at $ 45/month for Stage One with 256 MB of RAM; $ 80/month for Stage Two with 512 MB of RAM; $ 140/month for Stage Three with 1 GB of RAM.
Private Grids - Custom solutions pricing is available upon request and tailored to reflect the specific needs of each client and the complexity of the hosting environment required. Please contact Joseph Dempsey at NetLab for more information.
About NetLab
NetLab Inc., based in El Segundo, California, provides high performance, highly secure grid hosting solutions for businesses, developers and individuals. NetLab's range of services can meet virtually any hosting requirement from simple shared grid hosting, to multi-server complex environments. For more information about NetLab and its services please visit http://www.netlab.com.
Contacts:
Steve Harwood

NetLab CEO

310-929-7399
3tera and AppLogic are trademarks or registered trademarks of 3Tera, Inc. TopLayer is a trademark of TopLayer Networks. All rights reserved.
# # #