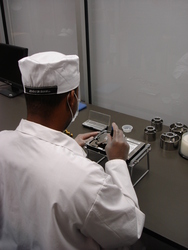 Denver, CO (PRWEB) December 19, 2008
DataTech Labs, a leading provider of data recovery services, announced today its new corporate headquarters in Denver is fully operational. Due to increased business and demand DataTech Labs moved to a new facility that boasts an all new state-of-the-art class 100 cleanroom, increased recovery stations, and additional staff.
"Almost every electronic device produced today contains a data storage component, whether it is a computer hard drive, flash (USB) drive, digital camera card or mass business server, they all contain storage devices that can fail. It's not a matter of 'if' these devices will fail, but a matter of 'when'," said Jeff Patrick, President, DataTech Labs. Hard drive production is increasing at record rates, which means a growing need for cost-effective data recovery services. "Our new facility will enable us to offer faster data recovery turn times, competitive industry pricing, and increased customer service," added Patrick.
"Our new lab is designed to handle the additional volume we are experiencing from increased industry presence," stated Stephen Christopher, Director of Sales. "DataTech Labs offers the most cost-effective blend of data recovery services tailored to fit each consumer's individual needs."
Through proprietary technology and procedures, DataTech Labs is becoming a house-hold name for data recovery services nationwide. Using advanced tools paired with continual investment in research and development, DataTech Labs performs recoveries on the most advanced hard drives, VMFS (virtual machine file system), and solid state media. The specialty RAID data recovery department has been expanded as well in the move.
For more information about DataTech Labs' services visit DataTech Labs.
About DataTech Labs Inc:

DataTech Labs provides data recovery services for business, government, education and personal users on all failed media devices. Ground-breaking proprietary technology allows for some of the industry's best pricing and fastest recovery times. In addition DataTech Labs offers full service RAID recovery and server data recovery.
###