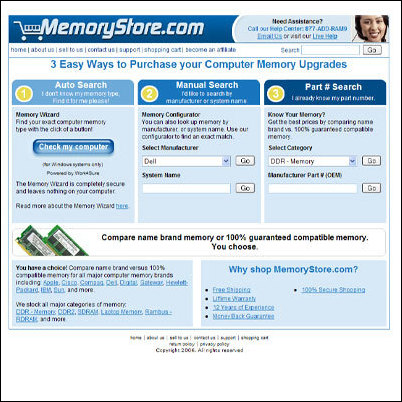 MONTGOMERYVILLE, PA (PRWEB) April 4, 2006
MemoryStore (memorystore.com), a leading provider of computer memory upgrades for virtually every computer model and brand, old or new, announced today the launch of it's new online store at www.memorystore.com.
MemoryStore.com now offers consumers even more choices. This is the only online store on the web where customers can instantly view side-by-side comparisons between brand-name, factory original, and 100% guaranteed compatible computer memory upgrades, allowing them to decide what memory solution is best for them. Memory upgrades for Dell, IBM, Apple, DEC, HP, Sun and hundreds of others are all available for purchase online at MemoryStore.com or by calling 877-ADD-RAM9.
For the first time, customers do not need to know their exact model number. The Memory Wizard tells the customer exactly what computer memory they have and exactly what memory is needed. What separates MemoryStore.com from the competition is the Memory Wizard tool; a proprietary feature that enables the site visitor to find their exact memory type with the click of a button.
"Our Memory Wizard and side-by-side comparisons take the guesswork out of buying memory upgrades. Our customers can quickly and easily choose a memory option that is 100% guaranteed to work for them," said Bob Kanoff, Vice President of Memorystore.com's new online store. "We invite you to visit MemoryStore.com today to test our Memory Wizard tool for free and take advantage of our limited time 10% discount and free shipping. Just enter discount code MEMORYSALE at checkout."
Whichever option they choose, customers can be assured their order is backed by the MemoryStore 12-year tradition of exceeding their customers' highest expectations and delivering the highest-quality product available. Every memory module MemoryStore.com sells is fully tested and includes a lifetime warranty. Products are usually shipped the same day the order is received.
About Memorystore.com
MemoryStore.com was incorporated in 1994. The business strategy was and still is to offer the widest variety of computer memory to our customers. By 1996, MemoryStore.com evolved into a full surface-mount module manufacturing process, building SIMMs, and DIMMs. In 2001, the Company moved into its new 18,000 square foot facility housing three process lines. It is now one of the premier memory module manufacturers and distributors in the United States.
The company is headquartered in Montgomeryville, Pennsylvania. For more information on MemoryStore and its online store, please visit: www.memorystore.com.
Memorystore.com Press Contact:
Bob Kanoff
(877) ADD-RAM9 (877-233-7269)
215-643-6020
# # #
Related Ram Press Releases