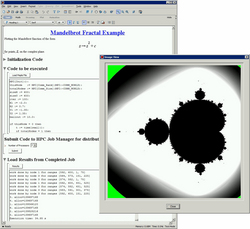 Waterloo, Canada (Vocus) September 20, 2010
Maplesoft™, a provider of high-performance software tools for engineering, science, and mathematics, today announced the release of the newest version of the Maple™ Grid Computing Toolbox. The Maple 14 Grid Computing Toolbox enables distributed computing using Maple, the primary tool for engineers to solve complex mathematical problems and create rich technical documents.
Using this toolbox, users can run Maple computations in parallel, taking advantage of all the hardware resources available, cutting down on processing time, and enabling applications that were not possible before.
The Maple 14 release of the Maple Grid Computing Toolbox provides built-in integration with Windows HPC Server, including Windows HPC Server 2008 R2, released today. It connects directly to a users Windows HPC Server cluster, simplifying installation, configuration, and operation of the grid, and it integrates with the Windows HPC Server tool chain for administrative tasks such as job scheduling, load balancing, and usage monitoring. The Maple 14 Grid Computing Toolbox also uses the standard message passing interface (MPI) protocol for efficient communication between nodes in the grid and easy integration with tools that support this protocol.
"The Grid Computing Toolbox allows users to distribute computations across the nodes of a network of workstations, a supercomputer, or across the CPUs of a multiprocessor machine, handling problems that are not tractable on a single machine," said Paul DeMarco, Director of Development for the Maple Grid Computing Toolbox, Maplesoft.
"Microsoft® is excited to work with companies like Maplesoft to help customers take full advantage of advanced computational capabilities," said Bill Hamilton, Director, Technical Computing, Microsoft Corp. "With the Maple 14 Grid Computing Toolbox's built-in integration with Windows HPC Server 2008 R2, it is now easier for our joint customers to set up grid computations on a Windows HPC cluster."
About Maplesoft

Maplesoft™, provider of high-performance software tools for engineering, science, and mathematics, offers a product suite that reflects the philosophy that given great tools, people can do great things.

Maplesoft's core technologies include an advanced symbolic computation engine and revolutionary physical modeling techniques. Combined together, these technologies enable the creation of cutting edge tools for design, modeling, and high-performance simulation.
Engineers, scientists, and mathematicians use Maplesoft's products to reduce errors, shorten design times, lower costs, and improve results. The Maplesoft product suite includes Maple™, the technical computing and documentation environment, and MapleSim™, the high-performance, multi-domain modeling and simulation tool for physical systems.
Maplesoft's customers include Ford, BMW, Bosch, Boeing, NASA, Canadian Space Agency, Canon, Motorola, Microsoft Research, Bloomberg, and DreamWorks, covering sectors such as automotive, aerospace, electronics, defense, energy, financial services, consumer products, and entertainment. With Toyota, Maplesoft founded the Plant Modeling Consortium to promote the development of new design techniques for automotive and related industries.
Visit www.maplesoft.com to learn more.
*Maplesoft, Maple, and MapleSim are trademarks of Waterloo Maple Inc. All other trademarks are the property of their respective owners.
###