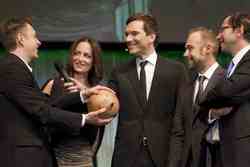 Atlanta, GA (PRWEB) September 23, 2010
JouleX , the leading innovator in sustainable energy management systems for the enterprise, received the 2010 Clean Tech Media Award in the Energy category during a non-profit event held in Germany and initiated by Clean Tech Media GmbH Co. KG and Marco Voigt and Sven Krüger, heads of the strategic government policy advice- and technology-consultancy VKPartner.
Since 2008, the non-profit project has paid tribute to the pioneers in the field of environmental technologies, heralding those who have transformed their passion for green technologies into action, those who in innovative ways are increasing awareness and promoting the new technologies. Awards also honor the celebrities and public figures who embrace an ecological life-style, thereby encouraging a further acceptance and popularity of sustainable technologies.
"We are honored to be awarded the Clean Tech Media Award in recognition of our approach in developing green IT solutions that address the need for large corporations to accomplish both cost-saving initiatives AND environmental sustainability," said Josef Brunner, chief architect and co-founder for JouleX. "JouleX Energy Manager, or JEM, does just that. By cost-effectively monitoring, analyzing and managing energy usage for all network-connected devices and systems, JEM helps companies quickly realize how reducing energy waste presents a significant environmental and cost-savings opportunity."
Coinciding with CLEAN TECH WORLD, the first international exhibition and conference event in Clean Tech, the awards ceremony took place on September 16 at Berlin's Tempelhof airport. Winners were recognized in six different categories and evaluated by a high-level panel consisting of business, political, science and media representatives. More than 60 applications were vetted from 15 different companies.
For more information on the 2010 Clean Tech Media Award, visit www.cleantech-award.de/en/home.html.
About JouleX

JouleX is the leading innovator in sustainable energy management systems for the enterprise. Its flagship solution, the JouleX Energy Manager (JEM), provides the Global 2000 and government agencies with the ability to monitor, analyze and manage energy usage for all network connected devices and systems across the enterprise, including in distributed offices, data centers and facilities. Importantly, JEM works without the use of device agents, dramatically reducing installation time and removing the maintenance burden associated with similar technologies. JEM decreases energy costs by up to 60 percent while also providing robust reporting that enables compliance with emerging carbon monitoring requirements.
JouleX was founded in 2009 and is privately held with capital investments from Target Partners and TechOperators. The company is headquartered in Atlanta, Georgia, with European offices located in Munich and Kassel, Germany. For more information, please visit www.joulex.net, call (404) 567-4445 or send an email to info(at)joulex(dot)net.
© 2010 JouleX, Inc. JouleX and JouleX Energy Manager (JEM) are trademarks of JouleX, Inc. All other brands and product names may be trademarks or registered trademarks of their respective holder.
# # #
Find More Tech Press Releases