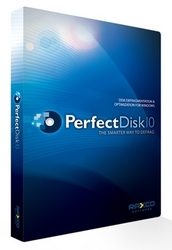 Gaithersburg, MD (Vocus) April 22, 2009
Raxco Software, the leader in disk defragmentation software, today announced that its new PerfectDisk® 10 disk defrag and optimization utility has received its latest 5-star award from ITreviewed. The recognition is the latest in series of high praise from the IT community.
ITreviewed states that PerfectDisk is faster, more effective, and offers a lot more features and flexibility than the Windows® built-in defragger, and is the best of third-party offerings. The review indicates that PerfectDisk helps users "maintain the best possible hard drive performance," whether they are novice users, power users, or "network gurus." ITreviewed says that "using PerfectDisk is a joy and it's always great fun to see how much space you can recover from your hard drive - PerfectDisk even shows the before and after performance of the drive, the type of files moved, and how frequently modified each file normally is. The software is easy to use, and there are plenty of settings and reporting for advanced users.
"Besides the effectiveness of PerfectDisk, those with older (slower) machines will appreciate the software's low footprint and the way it allows you to get on with your tasks without dragging your machine to a crawl - it doesn't overload the CPU and RAM like many utility programs sometimes do. This is an obvious advantage over the typical Windows 7/Vista/XP Defrag, which typically cuts performance horribly."
"We're delighted that ITreviewed is joining the long list of technology and business professionals who are giving their top marks to PerfectDisk 10," said Joe Abusamra, vice president of operations of Raxco Software. "In today's economic climate, users of all types demand the highest quality and best value for their purchases, and PerfectDisk delivers for all of these users."
About Raxco Software

Raxco Software has been the industry leader in helping large enterprises, small businesses, and consumers with their computer resource management needs for over 30 years. Its PerfectDisk 10 is Certified by Microsoft® for Vista, Windows Server® 2008 and Hyper-V. PerfectDisk products have a long history of winning the industry's highest awards, most notably its perfect 5-star review from CNET Download, winner of the Windows IT Pro Readers' Choice Awards for Defragmentation Utility and Storage Management Tools, Redmond Magazine's Best of the Best Award, and PC Magazine's Editors' Choice Award. Raxco also produces optimization software, for HP's OpenVMS operating system. Raxco Software can be found on the Web at www.perfectdisk.com.
###