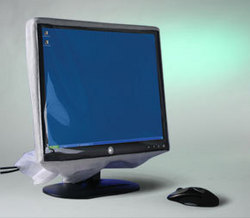 Hancock, MI (PRWEB) October 2, 2009
Manufactured by Kiilunen Manufacturing of Calumet, Michigan, ShopShield™ Computer Dust Covers are inexpensive (around $ 20) and simple to install and maintain. The user secures what is essentially a breathable case over their computer CPU, and another (with a crystal clear face panel) on the monitor. The computer runs as normal, and use is unhindered with the covers in place. Air flow is not significantly impeded, but according to test results using the covers can result in a 99.5% reduction in the amount of dust reaching the sensitive electronic components inside.
Erik Keranen, Owner of Computer Dust Solutions, LLC is on a mission to let small business owners know about the Shopshield™. "The great thing about ShopShield™ is, it's so effective in extending computer life and yet affordable enough even for the smallest home-based business," he said.
ShopShield™ Computer Dust Covers are a simple, yet brilliant innovation. The inventors created a soft, flexible cover perfectly suited to filtering huge amounts of air over many months while trapping most of the airborne dust. The installed product will go nearly unnoticed, unlike expensive and bulky computer cabinets needing independent ventilation systems, or vinyl covers that are useless when removed from the machine for access (and so often just left lying on the floor under a desk).
Computer Dust Solutions, LLC has released a complimentary special offer: a free report on the Effects of Dust on Computer Electronics and Mitigating Approaches. The report describes the damaging effects of dust on computers, and what we can do to prevent it.
###