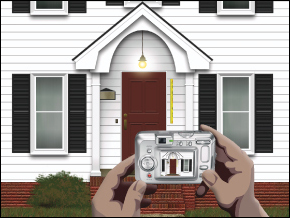 LA MESA, CA (PRWEB) July 17, 2006
Emerge Industries announces that graphic designers and sign makers report savings of up to an hour on every sign job using The Amazing Sticky Yard™ Digital Measuring System. For about the price of a tank of gas, sign makers and graphic designers can easily take measurements of any size object in a snap with a digital camera, a computer and the Sticky Yard software.
Featured on popular blog, Gizmodo Sticky Yard saves sign makers valuable time when estimating, measuring, and installing projects. The Digital Measuring System eliminates the need for ladders, measuring tapes that slip, sketching a project and repeat trips to measure a job. Graphic designers simply apply the Sticky Yard tape anywhere on the object, stand back and take a digital photo of the object with the Sticky Yard in the image. The Sticky Yard software displays accurate measurements directly from the digital photo.
"I now save at least an hour on every measuring job, thanks to the Amazing Sticky Yard," says Tammy Arndt, of West Bend Sign Shop in West Bend, Wisconsin West Bend Sign Shop "Using Sticky Yard and my camera, I don't have to hold a tape measure and take every measurement on paper. I just attach the Sticky Yard, step back and snap a photo. That's it. Back at my computer with a few mouse clicks I get every measurement I need. Sticky Yard works great on any size object—from semi tractors to small decals." Arndt continued, "Saving an hour per job means I have more time for selling, sign creation and production. That means a lot in a four-person shop like ours."
Sticky Yard is an innovative tool that makes it easy for sign makers and graphic designers to work smarter from the estimating phase up through project installation. The complete Amazing Sticky Yard Digital Measuring System is available for $ 49.95. Sticky Yard adhesive and magnetic tapes—used to determine the correct size of a graphic—bend to measure around vehicle curves, will not scratch paint and are available from $ 6.99. A complete list of Sticky Yard tape refills and software is available at Sticky Yard Products or by calling 877-259-2173.
About Emerge Industries
Emerge Industries, Inc. designs and develops innovative measuring solutions that save time, reduce costs, and help professionals work smarter. The Amazing Sticky Yard™ Digital Measuring System, their flagship product, is available through find distributors or on the Web at stickyyard.com. Emerge Industries, founded in 2000, is a privately-held La Mesa, California-based company.
# # #
Find More Graphic Press Releases