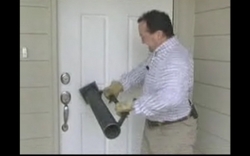 Saddle Brook, NJ (PRWEB) March 17, 2009
Burglaries and home invasions have increased across the country. With this trend expected to continue, many homeowners are searching for effective and economical ways to keep intruders out. Recently WREG-TV in Memphis, TN tested Door Jamb Armor® because the door security product claims to provide "effective kick-in protection". Door Jamb Armor® passed the test and far exceeded expectations by withstanding multiple kicks and several minutes of pounding with a police battering ram.
WREG-TV found Door Jamb Armor after noting an increase in Memphis area burglaries. Since 2 or 3 kicks will open most doors, the product made an interesting target for a test on the station's popular "Does It Work" segment. After installing Door Jamb Armor® on a fiberglass door, several people tried unsuccessfully to kick in the door. Door Jamb Armor® then stood up to several minutes of pounding with a police battering ram that finally ended with the ram breaking a large hole in the face of the door. Armor Concepts does not claim that Door Jamb Armor® can withstand the force of a battering ram but the product never failed. "It is almost unheard of to have a product exceed our expectations in the way Door Jamb Armor® has... This was very impressive," said anchor Kris Anderson. This segment can be viewed on wreg.com.
Door Jamb Armor® is a patented 5-piece door security kit that reinforces the weak points on a door to help prevent forced entry. Unlike security bars and screens that cover the door and can be unattractive, this kit is barely visible once installed and the pieces can be painted to match the color of the door or jamb. Door Jamb Armor® can also be used to repair existing damage, without removing or altering the door. Door Jamb Armor® has a suggested retail price of under $ 125 and can be installed in about an hour by most do-it-yourselfers. Door Jamb Armor® comes with a warranty that will pay $ 200 towards the user's homeowners deductible if the product fails.
Armor Concepts LLC designs and distributes security and repair products for homes, apartments and office buildings. The Company's products are available nationally through Lowe's, Grainger and HD Supply. For further information about Door Jamb Armor® and other Armor Concepts' products, contact Alan S. Young, 280 N. Midland Avenue, Building L Saddle Brook, NJ 07663. Phone: 201-490-5381. E-mail: info (at) djarmor (dot) com. Website: www.djarmor.com
###
Related Ram Press Releases