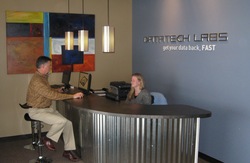 Denver, CO (PRWEB) December 9, 2009
DataTech Labs, a leading provider of data recovery services, announced its new partnership with Western Digital. DataTech Labs is now part of a small elite group listed as a preferred data recovery partner on Western Digital's website, for businesses and individual customers in search of data recovery.
The new partnership with Western Digital allows DataTech Labs to perform all levels of data recovery services without voiding the manufacturer's warranty. In many instances a hard drive must be opened in a Class 100 Cleanroom environment in order to retrieve customer's data. Non-certified companies that open a hard drive or its enclosure will cause the manufacturer's warranty to be voided and a replacement hard drive will not be provided. However, under the partnership DataTech Labs is authorized to open all Western Digital hard drives and enclosures without breaking warranty.
"DataTech Labs is excited to offer our expertise to Western Digital's customers that have experienced data loss. As consumers continue to utilize hard drives as their digital storage, we find an increasing need for data recovery and look forward to providing our services to WD customers," said Jeff Patrick, President, DataTech Labs. "We are currently one of the most competitively priced professional data recovery companies in the industry, but through the new partnership Western Digital customers will enjoy additional offers and benefits," added Patrick.
DataTech Labs offers a "No Data, No Charge" guarantee on all single hard drive units. If their recovery engineers are not able to retrieve data from a failed drive there are no service fee charges. Single hard drives are evaluated free of charge and depending on the extent of the drive failure and the specific processes and procedures necessary to recover data, prices and timeframes can vary.
Through proprietary technology and procedures, DataTech Labs is becoming a house-hold name for data recovery services nationwide. Using advanced tools paired with continual investment in research and development, DataTech Labs performs recoveries on the most advanced hard drives, VMFS (virtual machine file system), and solid state media. DataTech's headquarters also contains a state-of-the art RAID data recovery and server data recovery department.
For more information about DataTech Labs' services visit www.DataTechLab.com.
About DataTech Labs Inc.:

DataTech Labs provides data recovery services for business, government, education and personal users on all failed digital media devices. Ground-breaking proprietary technology allows for some of the industry's best pricing and fastest recovery times. DataTech Labs specializes in recovering data from all digital media devices, including: hard drives, servers, RAIDs, NAS, laptops, desktops, hard disks, camera cards, flash drives, and much more.
###