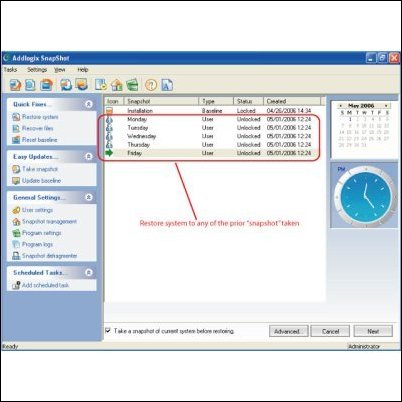 (PRWEB) May 2, 2006 - AddLogix introduces SnapShot –
data backup in a snap - a powerful, efficient and versatile disaster recovery software product that allows computer users to easily and quickly restore their computers to a functional state in seconds. Unlike most products on the market today, it can also recover lost and/or corrupted files. Simply put, Addlogix SnapShot offers powerful and fast recovery tools that not only protect operating systems and programs, but also personal data files.
How the Data Backup System Works
The program is easy to use through a very user-friendly interface and works by allowing users to create "snapshots" (maps of the hard disk sectors) of the computer's system settings, programs, and data. The user simply has to click on the "Take a Snapshot" button, and within seconds the program has literally taken a snapshot of your entire computer. If a problem occurs at some future date, users can restore the system to a specific snapshot taken in the past, which includes programs settings and data files.
One of the most unique features of SnapShot is its Selective Data Recovery tool which allows users to "selectively" recover files that were created from the snapshot to the present. Users can selectively recover files by using the "Recover Files" feature, which can search for files by file name, file type, folder name, etc. Users can also restore the system with the Advanced Data Synchronization option, which allows the user to manually select the files that they want to be transferred to the restored snapshot.
SnapShot takes less than 10 seconds to create a snapshot and can support up to 60,000 snapshots at a time. It can selectively recover files from any of the prior snapshots quickly and easily. It uses dynamic disk space management and releases the unused disk space upon deletion of snapshots. SnapShot also has the capability of protecting multiple partitions, and can selectively restore the system back to its original state. It offers a highly configurable security access control feature that allows the creation of user accounts and customized access rights for each account.
The program is also available in a server version, which has the added benefit of being able to control client computers remotely. As long as a network links the computers, an IT administrator can perform all the powerful functions of Snapshot from thousands of miles away, including rebooting the computer.
Applications
The versatility of this product makes it an invaluable tool for IT administrators in companies of all sizes. IT personnel can use Addlogix's SnapShot as an integral part of their preventive maintenance programs by implementing the very useful "Schedule" feature in the software, which automatically takes a snapshot of the system at a specified time, such as the beginning or end of the day. This way, SnapShot can help play an integral role in the disaster recovery program of any company by being able to restore computers to their normal state, and being able to selectively retrieve data any time a problem occurs.
SnapShot can maximize productivity of business enterprises by minimizing the time spent on fixing PCs, dealing with computer down-time, re-loading configurations, etc. The program delivers an enhanced level of protection for computer networks by making it easier to remove spyware, and protect against virus attacks. With SnapShot, system downtime can be reduced to a matter of minutes, rather than the typical 3-4 hours, and can considerably improve workers' efficiency since workers don't have to suspend their work for hours waiting for IT personnel to fix their computers. The time spent trouble-shooting and responding to any potential problem is considerably reduced. It also enables IT administrators to easily and safely go through the entire patch deployment process of testing, debugging and patch roll-out with the least risk.
Computer leasing and rental companies can benefit tremendously from the program. Instead of spending countless hours deleting files and installing/ uninstalling programs, users can simply restore the system to the day that the computer was leased to the customer, and it is ready to be rented to the next customer.
SnapShot is also a great resource for home use, as more and more households now have two or more computers. In the event that a family member downloads files containing viruses, or accidentally deletes important files, SnapShot can fully restore the system without having to reinstall any of the original software or operating system, saving time and unnecessary frustration. Educational institutions also stand to benefit from SnapShot as it enables computer lab administrators to operate in a worry free environment, since all settings can be restored to their original configuration in a matter of seconds if any problem occurs.
Specifications of Snapshot:
OS Compatibility: Windows 98, ME, 2000, NT 4.0, XP (Work Stations only)
Supported File Systems: FAT 16, FAT 32 and NTFS (compression not supported on NTFS)
Includes Multi-boot System Support
SnapShot (http://addlogix.com/networking/se_snapshot_body.htm) is a powerful disaster recovery program that offers users from all walks of life an invaluable data backup tool to safeguard and protect their computer systems.
Contact:
Matthew Chang
949-341-0888
www.addlogix.com
###