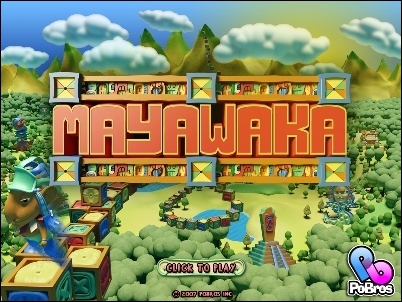 Marietta, GA (PRWEB) May 10, 2007
The mobile and computer game site PoBros.com launches the colorful action puzzler, Mayawaka. The action puzzle game follows a hero's quest through ancient worlds to save Mayawaka by collecting mysterious stones. PoBros.com has a trial of the game as a free download.
"Mayawaka is a vibrant computer game that contains eight unique worlds," said Miguel Portilla, president of PoBros.com. "Its own mysterious, intricately carved totem represents each world, and players must work through increasingly challenging pyramids in order to advance through the worlds."
Mayawaka is playable in two modes. Adventure mode lets the player follows the character's story and reveals the plight of Mayawaka's citizens. Arcade offers the player a reflex-challenging, highly entertaining mode. The free download of Mayawaka allows the player to tryout both modes.
"Players will embark upon a mystical adventure unlike any other," said Portilla. A number of challenging arcade-style games provide bonus points between each pyramid, keeping the action fresh, fun, and fast-paced in both adventure and arcade modes."
Players maneuver their character across each pyramid while avoiding creatures that will try to knock them off. Touch each block to transform its color. Once the player has transformed all of the blocks, they will move on to the next pyramid and take one-step closer to the next world totem.
Computer system requirements for Mayawaka: Operating system: Windows 2000, Windows 2003, Windows XP, Windows Vista Processor speed: 800 MHz cpu RAM: 256MB Hard drive space (uncompressed): 25MB DirectX version: 8.0.
About PoBros (www.pobros.com):

PoBros is a provider of original interactive entertainment for mobile devices and PC's. The company was founded in 2003 by game aficionados who have more than four decades of combined industry experience, and have been involved in developing games from concept to market - including many major AAA titles. Their passion enables them to create some of today's most innovative games for cell phone users and computer games for the Casual Games market.
Contact:

Miguel Portilla

PoBros.com

305-527-6500

miguelportilla(at)pobros.com
###