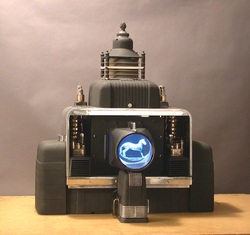 Tempe, AZ (Vocus) July 30, 2008
Steve Gompf, a game design and interactive art instructor at Collins College, has been selected to display his mixed-media sculpture entitled, "Televisor 1910 German," at SIGGRAPH 2008.
SIGGRAPH, which focuses on research, science, art, animation, gaming, interactivity, education, and the web, expects more than 30,000 computer graphics and interactive technology professionals to attend this year's conference. SIGGRAPH 2008 will be in Los Angeles, August 11 - 15.
Gompf's sculpture is part of an on-going series of mixed-media sculptures that look like authentic vintage televisions from the Televisor Era 1884-1928. His collection of approximately 50 sculptures is made of mostly found objects that he develops into realistic looking vintage televisions.
In addition to their realistic appearance, each of Gompf's sculptures display digitally manipulated re-animations of Eadweard Muybridge's photographic motion studies on their view screens (Muybridge is recognized as a pioneer of stop-motion photography). To further emphasize the appearance of authenticity, each sculpture is exhibited with a label that briefly describes its fictitious historical importance, its inventor and country of origin. The label also indicates the piece is from the Collection of the Televisor Museum International, a nonexistent institution, which can only be found online at www.teleseum.org, where many of Gompf's sculptures can be viewed.
Gompf's premise is, "If people believe anything on TV, would they believe anything is a TV?" According to Gompf, "They do."
Gompf is currently showing selected pieces from his collection at Dias Deus Ex Machina, an art gallery in downtown Phoenix located at 1023 NW Grand Ave.
About Collins College

Collins College, a school of design and technology, provides students with a career-focused education. Approximately 2,000 students from across the nation attend Collins College. Collins offers Bachelor of Arts' degrees in Game Design, Visual Arts with a major in Game Art, Graphic Design, Interior Design, Film & Video Production, and a Bachelor of Science in Information Technology. Associate degrees are offered in Information Technology, Digital Video Production, and Graphic Design. Collins is part of the Career Education Corporation network of schools (NASDAQ: CECO). For more information, visit www.collinscollege.edu.
About SIGGRAPH

SIGGRAPH, which stands for Special Interest Group on Graphics and Interactive Techniques, was founded to promote the generation and dissemination of information on computer graphics and interactive techniques. The annual SIGGRAPH conference is the organization's largest annual event. For more information, visit www.siggraph.org.
###