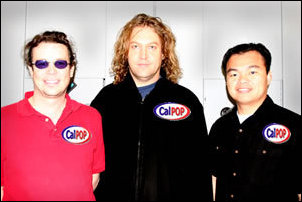 Los Angeles, CA (PRWEB) August 28, 2006
As of today, Intel "Core 2 Duo" CPU based dedicated servers are available at CalPOP.com for $ 159/month month-to-month or $ 1499/year (less than $ 125/month if you prepay 1 year) and feature the E6600 chip with 4mb cache and includes 10mpbs of CalPOP's proprietary and unmetered "hybrid" multi-homed bandwidth. CalPOP says this is the dedicated server-that-does-it-all offering the fastest speed for the most extreme 3d gaming servers and the horsepower to host the busiest database servers.
"The new Intel CPUs are amazing. We particularly like the new intel Core 2 Duo Conroe E6600 CPU for it's value/performance ratio and it's 4mb cache. These CPUs are faster than DUAL XEON 3.0s, faster than AMD 4800, Faster even then AMD FX62, and cost about the price of a P4 3.6 chip," says Lynn Hoover one of CalPOP's three Co-Presidents.
"If you've been waiting for the next generation of CPUs before you get a new dedicated server- then now is the time," says Evert Van Niekerk, Co-President of CalPOP. "The CalPOP data center houses more dedicated servers than anyone else in Los Angeles."
"Whether you are looking for the fastest dedicated server to host your private game servers or whether you are looking for a robust platform to host your company website and database - - this new dedicated server is the way to go," says Ross Thiers, CalPOP's other Co-President.
"Where else can you get one of these new dedicated servers and complete 24 hour free support and unmetered bandwidth for less than $ 125/month? (if you prepay one year)," says Thiers.
"We are very excited about these new servers," says Lynn. "We expect our competitors to be weeping, turning gray, closing their doors or turning in their resignations."
"And we expect our clients to be smiling..." says Ross.
And what of the thousands of existing P4 and Xeon servers? What happens to them? "Well, not everyone needs the world's fastest dedicated server - last year's fastest model tends to become the value priced CalPOP specials of tomorrow - and we have all types of servers starting from $ 99/month which includes bandwidth and free 24 hour support," says Evert.
CalPOP.com is a privately held company in Los Angeles, CA that specializes in dedicated internet servers and internet server collocation.
###