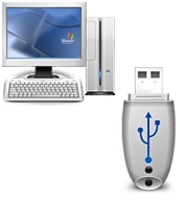 Moscow, Russia (PRWEB) April 17, 2008
MDO announces the release of eBoostr version 2.0, a major update of its Windows XP acceleration software. eBoostr speeds up Windows and applications by using available flash memory and free RAM as an extra layer of performance-boosting cache.
The product reduces application load time and improves responsiveness by utilizing the flash memory as well as otherwise wasted free RAM resources to cache frequently accessed files and data. Even if there's plenty of RAM, Windows XP does not utilize the available resources to its full potential. eBoostr makes Windows run smoother and big applications load faster without requiring costly hardware or software upgrades by implementing an alternative solution to ReadyBoost and SuperFetch technologies introduced in Vista.
Technology Background

Microsoft introduced two new technologies to improve the performance of its newest version of Windows, the new Windows Vista. Microsoft SuperFetch utilizes the available free RAM to enhance Windows responsiveness and reduce load time for frequently used applications by pre-fetching and storing frequently accessed applications in the computer's fast memory instead of loading it from the slower hard disk. Microsoft ReadyBoost utilizes flash memory for the same purpose, effectively adding yet another layer of performance-improving cache to the system.
Unfortunately, Microsoft has decided against implementing ReadyBoost and SuperFetch in Windows XP and older versions of Windows. eBoostr allows you to get the benefits of these technologies by giving Windows XP users a boost without them having to upgrade Windows.
eBoostr Benefits

eBoostr increases the performance of a PC without upgrading hardware or Windows. The new product makes Windows and applications more responsive by reducing accesses to the hard disk. The acceleration technology provides a measurable performance increase by improving Windows XP memory utilization and caching most used files and data on a chip flash thumb drives. Unlike the traditional passive caching, eBoostr analyzes how often the particular data and files are accessed, and pro-actively loads them into fast system memory or stores them onto a flash memory card, effectively improving the performance of the entire system.
Notebook PCs gain even more from using eBoostr. Typically equipped with slower hard drives, laptops benefit from reduced hard drive access even more than their desktop counterparts. By reducing hard disk access, eBoostr enhances the performance and saves battery power at the same time, allowing users to work longer and faster.
eBoostr runs on any PC with Windows XP/2000/2003, and allows using up to 4 cache devices. The product supports USB thumb drives, flash memory cards (CF, SD, MMC, SDHC etc), as well as additional hard disks. The only requirement is USB 2.0 version (USB 1.1 has a very low speed.)
The product was introduced in November 2007 and since that has gained in popularity due to its simplicity and usefulness. The updated version 2.0 of eBoostr includes many improvements in caching mechanism, cache devices load balancing mechanism, the new ability to use RAM for caching and features a brand-new battery power save mode.
A fully-functional time-limited trial version is available for download from the product website. eBoostr 2.0 is available for purchase in four versions: "Lite" ($ 19), "Desktop Edition" ($ 24), "Laptop Edition" ($ 29) and "Pro" ($ 39). Business site licenses and volume discounts are also available. For more information, visit http://www.eboostr.com
About MDO

MDO (Moscow Development Office) was founded in 1994 and since then through creative work of its team of developers has gained a stable position in the field of software and internet development, as well as high acclaim from users all over the world for its digital photography product line, FirmTools. Its new product, eBoostr, was developed by the company division organized specially for this project. More information about the company and products is available on the website.
(*) eBoostr™ is a trademark of MDO Ltd. Windows XP®, Windows Vista®, ReadyBoost®, SuperFetch® are registered trademarks of Microsoft Corporation. Any other trademarks or service marks contained herein are the property of their respective owners.
###